Due to the Covid-19 pandemic, all Movies in the Mountains' film showings have been suspended until further notice.
AVM will be presenting installment articles on the history of film. We shall also begin adding movie reviews to a new page for A Film Club. We will endeavor to let you know where films may be streamed free of charge but with so many venues available, it may not always be possible. We encourage you to search options already accessible to you. To sign up for notifications on installments and reviews please click HERE.
Next Screening
Movies in the Mountains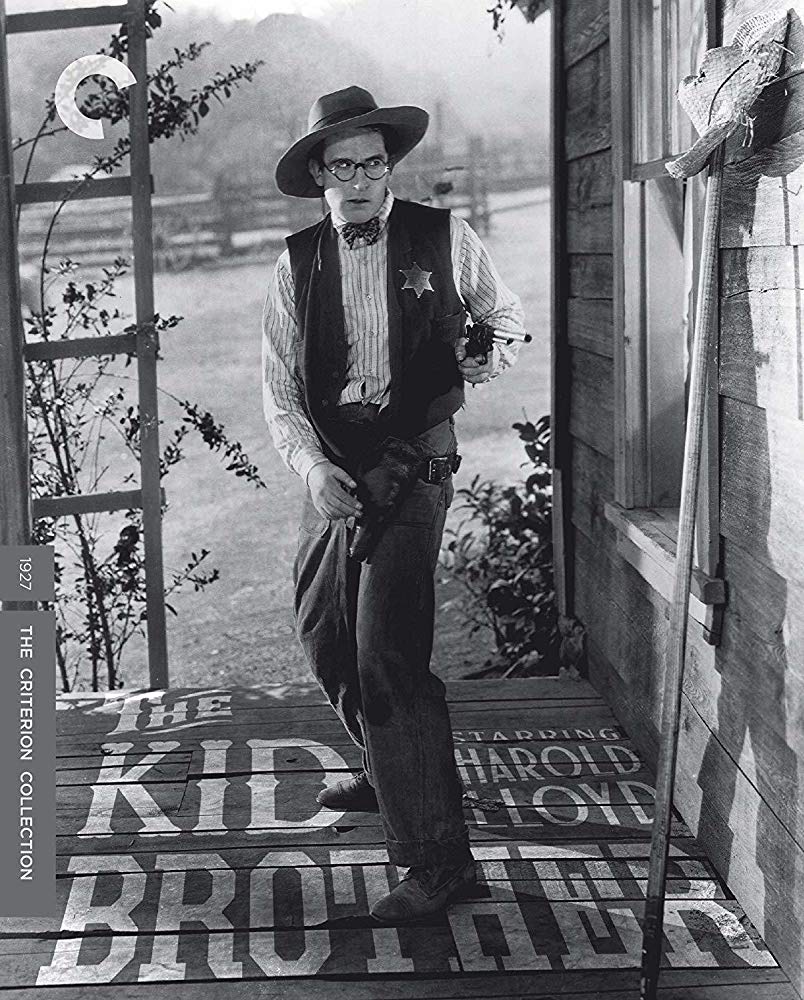 Harold Lloyd in The Kid Brother
(82 minutes, 1927)
Directed by Ted Wilde, Harold Lloyd & Lewis Milestone.
Written by Ted Wilde, John Grey, Tom Crizer, Howard Green and Lex Neal.
Principal cast: Harold Lloyd (1893-1971), Jobyna Ralston (1899-1967), Constantine Romanoff (1897-1977) and Walter James (1882-1946).
Who was the most popular comedian in the silent film era? Buster Keaton (1895–1966)? His genius was eclipsed by Chaplin but belatedly recognized in the 1950s. So, Chaplin (1889–1977). Most popular, right? Not really. Well, who?
Harold Lloyd (1893–1971) that's who! Lloyd made a total of two hundred and fifty-one single (mostly) and two-reel silent comedies between 1913 and 1921.
After those shorts, he filmed eleven silent features, and seven sound features. keeping box-office cash registers ringing.
The sheer number of Harold's films and his share of box-office income made Lloyd far wealthier than Chaplin, another multi-millionaire, as well as every other movie comedian or actor of his era. No one in Hollywood grew as wealthy as Harold Lloyd—not Chaplin, not Mary Pickford nor Douglas Fairbanks, Swanson, Garbo or the Brothers Warner, not even Nick Schenck (chief of M-G-M and Loew's Inc.).
In the mid-1920s, thirty-year-old Lloyd, ever the smart business man, bought fifteen acres in Benedict Canyon in Beverly Hills. After the project was completed in 1927, Harold & Mildred Davis Lloyd moved into their forty-five thousand square foot mansion with forty-four rooms, grounds for horse stables, a private nine-hole regulation golf course, numerous gardens, an outdoor theatre and pavilion, tennis courts, a small farm, a one hundred-foot waterfall that plummeted into a canoe stream, and a fifty by one hundred and fifty-foot private swimming pool, the largest in L.A.
Lloyd astounded huge audiences by his short 'thrill comedies' High and Dizzy, Look Out Below and Never Weaken. But his most famous is the full-length, Safety Last (1924) in which he seemed to climb a twelve-story office building and dangle high off the ground from the hands of the clock mounted on the outside of the building.
The building was on a cliff-like hill and was filmed from an angle looking down on traffic at the bottom of the hill. Still, climbing up what really was the equivalent of a three story building with only six fingers and one thumb proved valiant enough.
Five years earlier in 1919, Harold was posing for publicity photos, one of which was of Harold holding and lighting the fuse of dummy bomb in his right hand. But it wasn't a prop—it exploded and blew off his right thumb, index and middle fingers.
Distributors, unaware of his injury, never let up in their demand for more films. Under contract to complete a set number of movies each year, Harold, after a too brief period of recovery from pain, healing and depression, had to get back to work. Hereafter he always wore a glove over his prosthetic augmented hand (or gloves on both hands to limit public awareness of his injury and their distraction from the plot and stunts).
Nearly as remarkable as his injury and the stunts was Harold's limited lack of prior training. Yes, he was athletic and kept himself in fine shape physically, but he lacked the practiced comedy stunt training of his contemporaries like Buster Keaton, Charlie Chaplin, Lupino Lane Roscoe Arbuckle and other silent comics who migrated to Hollywood from circus, vaudeville, circus or Wild West shows—experience that always involved training in physical gags such as falling, tripping, jumping and tumbling.
Instead, Harold Lloyd had begun as a twelve-year-old stage actor, and studied at the San Diego School of Dramatic Arts. He did well in plays. But when stage work grew scarce, he took work as a movie extra and bit player, becoming friendly with Hal Roach, another bit player, soon to become Lloyd's employer and producer. Always athletic, Lloyd learned his acrobatic skills on the fly, preparing like a fighter to climb buildings, take falls, perform whichever physical stunts were required—even if they were only the less dangerous tricks of a stage magician for his role in Movie Crazy 1932).
Following the loss of much of his right hand, Lloyd still made thrill comedies, such as Hot Water and Girl Shy, both 1924 shorts, the feature-length Feet First in 1930 and Professor Beware in 1938. He seldom employed stunt men, but he trained like one for The Freshman (1925). Harold had to absorb body blows and get tackled by 'extras', some of whom were football pros (and gentler than the amateurs).
A decade later, Harold lost fifteen pounds, brushed up on his boxing skills and trained for The Milky Way in 1936. Harold effectively retired as a comedian in late 1938, after his last contract film for Paramount, Professor Beware (1938). It was neither poor, yet not among his better films. Also, radio-conditioned comedians and audiences were turning more to snappy verbal comedy than the poetic movement of the silent physical comedians.
Yet in 1947, writer-director Preston Sturgis tempted Lloyd back to movies to star in an intriguing film project, The Sin of Harold Diddlebock, which told the stifling story of the now middle-aged 'Freshman'. All of Lloyd's comedy films had contained sequences in which he demonstrated acrobatic skill, dexterity, strength and youthful daring. There was little doubt that Harold—at age 54—still retained much acrobatic ability, and still looked much like his 1920s youthful self.
But Harold was badly let down in that final film. Much of director Preston Sturgis' former creativity had evaporated with alcohol by the late 1940s, so rookie producer Howard Hughes incompetently chopped their film into a sloppy 1949 release retitled Mad Wednesday. Not a bit of that fiasco was Harold's fault, but it caused him to withdraw from film acting and pursue other interests including protecting the films he had made in the 1920s and 1930s.
Chaplin and Lloyd had produced and retained the ownership of their feature films, and continued to carefully tend to them. They witnessed what occurred after Hal Roach sold his library of Laurel and Hardy films to TV. Stan deplored that commercials were carelessly slotted into a middle of scene in his films with Oliver Hardy.
That desecration was visited also upon shorts starring Edgar Kennedy, Leon Errol, and The Three Stooges when RKO and Columbia also sold their film libraries to TV. Harold Lloyd and Charlie Chaplin refused to let their movies be carelessly choked with myriad TV commercials.
Lloyd revived his artistic reputation and legacy by releasing to excellent reviews, a masterfully edited compilation film of some of the more sensational scenes from both his silent and talkie films: The result, Harold Lloyd's World of Comedy (1962) delighted young and old audiences and critics across the world.
But for a decade before the release of that compilation film, and for the decade after he next compiled The Funny Side of Life (1963), Lloyd released nothing else because he remained adamant that he didn't want his films sullied on television with commercials or appear shrunken on small parlor screens. Thus many film fans had only read about his movies until they were finally released on dvd. Only then could they see why Harold Lloyd was ranked with Chaplin and Keaton.
Harold was unique among his comedy peers in that he eschewed heavy character makeup and costumes that most movie comedians from Chaplin to the Marx Brothers wore to define their characters. From 1917 onward, Harold usually wore ordinary street clothes in his movies or outfits that suited his films' characters, from college boy to soldier to sheriff.
As is true for all screen comedians, some of Harold Lloyd's comedies pleased audiences and critics more than other films, but there is general agreement that The Kid Brother (1927) is Lloyd's finest.
It has a strong, believable story-line and a very likable character for Harold that every audience would root for because he is the runt of an all-male he-man family. Yet it is Harold who defeats the villains, earns the respect of his rough-hewn father and brawny older brothers, and wins the heart of the fair maiden of his desires (played by Jobyna Ralston, an engaging leading lady with a gift for comedy).