Profiles E to L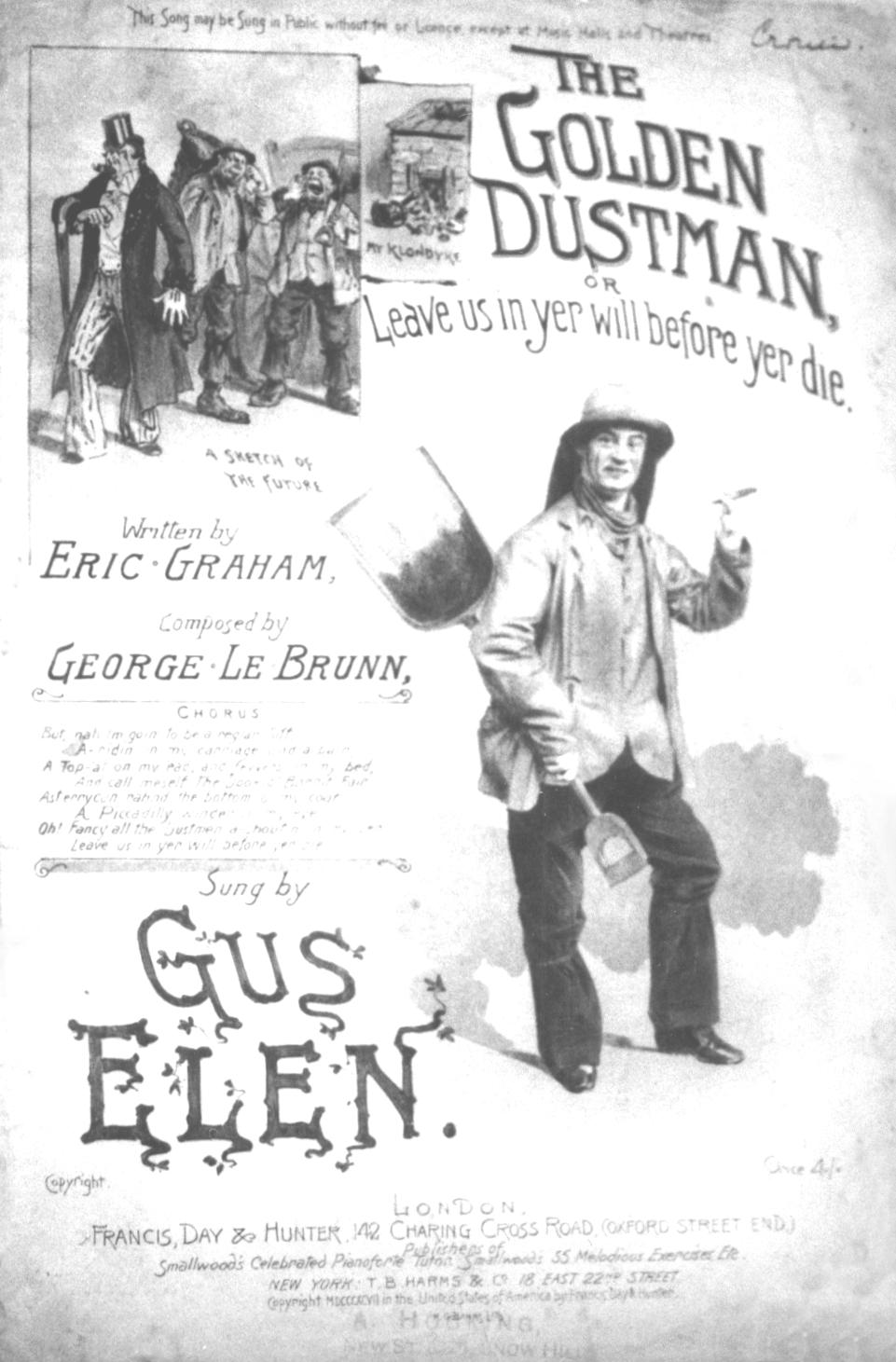 GUS ELEN
1862–1940
by Chris Simmons
Unlike British Music Hall stars like Harry Lauder and Albert Chevalier who extended their popularity by modifying their act and their delivery for American audiences, Gus Elen remained very much the man he was born, and his stage act was a faithful impersonation of the London cockney, a coster serenader.
Costers were the vegetable and fruit sellers who peopled London's marketplaces. With their dialect and colorful dress, costers had long captivated performers for their inherent theatricality. Gus Elen, however, was to the cockney manner born, and his characterizations remained authentic even as he tailored them for the stage. "I made up my mind at the outset," Gus Elen said later, "that my renderings of the coster character should be neither idealistic nor in the nature of a caricature, but just realistic."
Among the songs that he wrote or popularized were "Never Introduce Your Donah (girlfriend) to a Pal," "'Arf a Pint 'o Ale," "Me an' Er," "It's a Great Big Shame," "You Could See As 'Ow 'E Didn't Feel at 'Ome," and "The Golden Dustman."
When he retired in the early 1930s, Gus settled down to retirement and devoted his leisure time to "The Cockney's Garden" or "The 'Ouses in Between":
"Oh! It really is a werry pretty garden,
And Chingford to the eastward could be seen;
Wiv a ladder and some glasses.
You could see to 'Ackney Marshes,
If it wasn't for the 'ouses in between."
For more information about Gus Elen, send for Volume III, Issue #1 of Vaudeville Times or Bound Volume III
JULIAN ELTINGE
1881–1941
The most famous of female impersonators, Julian Eltinge first performed in drag for the miners who patronized the saloons of Butte Montana. His father's disapproval was immediate and harsh, and young Billy Dalton, as he was known, was sent to Boston to live with his aunt, and it was in this city that his career bloomed.
Unlike most female impersonators of that era or since, Mr. Eltinge was successful in a broad range of entertainment: vaudeville, revue, musical comedy, farce and films. He made seven feature films, only one of which was in sound and provided him with the musical comedy format that was most successful for him.
After 1930 Mr. Eltinge's career dissolved into a few nightclub dates that paid him a bare fraction of what he had once earned on Broadway. Laws had been enacted that forbid impersonations of women by men, and Eltinge was deprived of the means to earn his living. He died in Manhattan.
For more information about Julian Eltinge, send for Volume VI, Issue #1 of Vaudeville Times or Bound Volume VI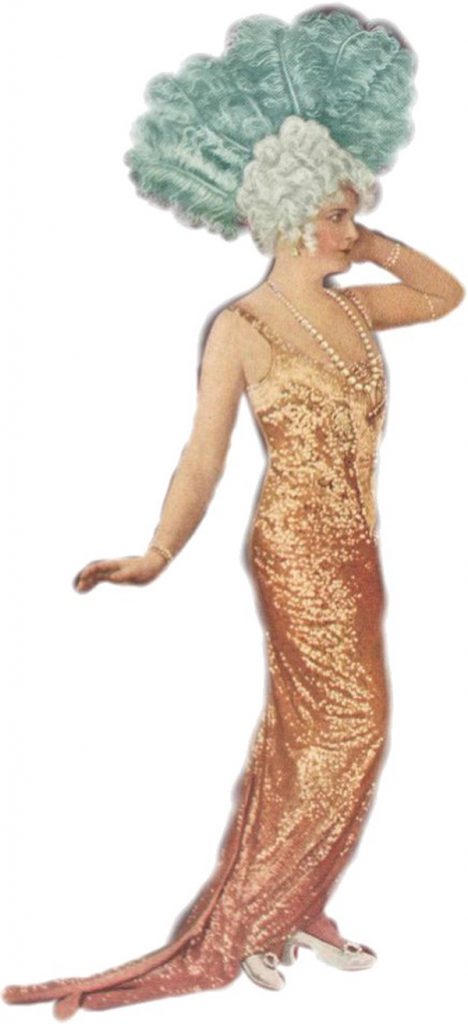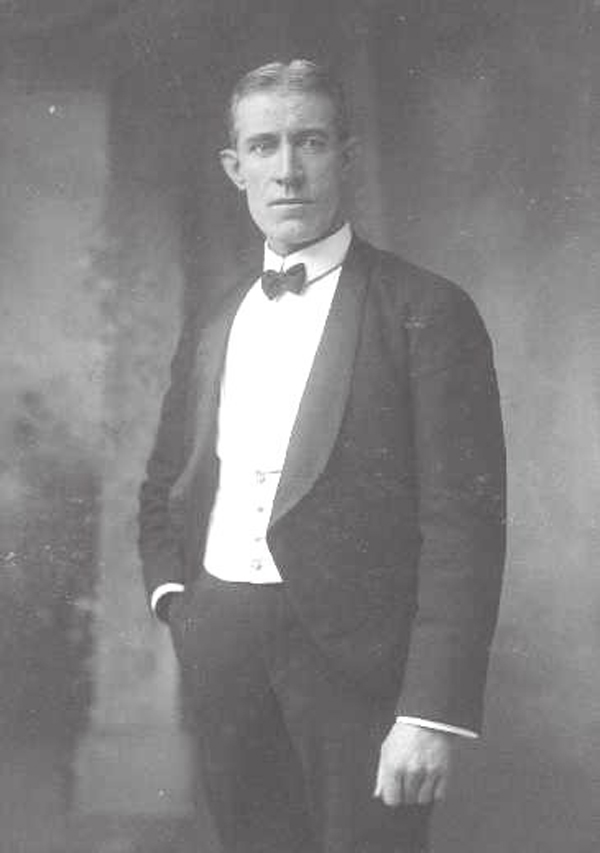 EL BARTO
El Barto, born in Missouri before the War Between the States, was orphaned as an infant and adopted by a family whose abuse caused him to run away to New York in 1869 when he was 11 and become one of the legions of homeless boys who sold newspapers and did whatever they had to do to survive. Fortunately, El Barto was inspired and tutored by a magician and found his avenue in the show biz life. He toured with medicine wagons and side shows in carnivals learning how to juggle and throw his voice as well as perfecting his magic tricks. For 66 years he plied his craft in vaudeville and revues, retiring at the age of 77, shortly before he died.
For more information about El Barto, send for Volume II, Issue #2 of Vaudeville Times or Bound Volume II
LEON ERROL
During Twentieth Century show business there have been many comedians who had a drunk act as part of their repertoire. James Barton, Jack Norton and Dusty Fletcher were among the greats along with Leon Errol. Errol was known as "Rubberlegs" for the way he walked-or staggered. His precarious balance always threatened to collapse but instead he tottered onward, like an exasperated rooster, flapping his arms and his head pecking forward.
Like Barton, Leon was a dancer. Born in Australia and apprenticing in every form of show business Down Under from the circus to Shakespeare, Leon and his wife and dance partner, Stella Chatelaine, came to San Francisco about 1905. When audiences failed to understand either his accent or his coster (Cockney) songs, he found success first as an eccentric dancer and physical comedian in beer halls, burlesque, vaudeville and musical revue.
The peak of his career was spent on the Broadway stage, starring in five Ziegfeld Follies and many other revues and musical comedies. He went to Hollywood with the advent of sound films and remained there for the rest of his life and career. Although nearly fifty years old when he began filming, Errol made nearly 50 features and 98 short films in his career. Though he never duplicated his success in film that he enjoyed on stage, Leon Errol had a long and busy career and proved to be one of the great comedians.
For more information about Leon Errol, send for Volume III, Issue #3 of Vaudeville Times or Bound Volume III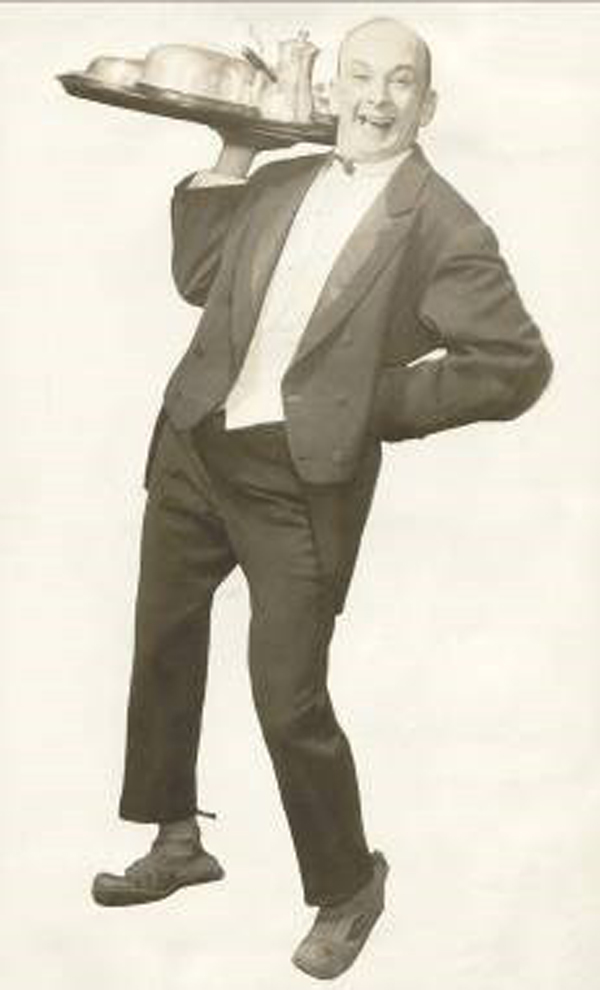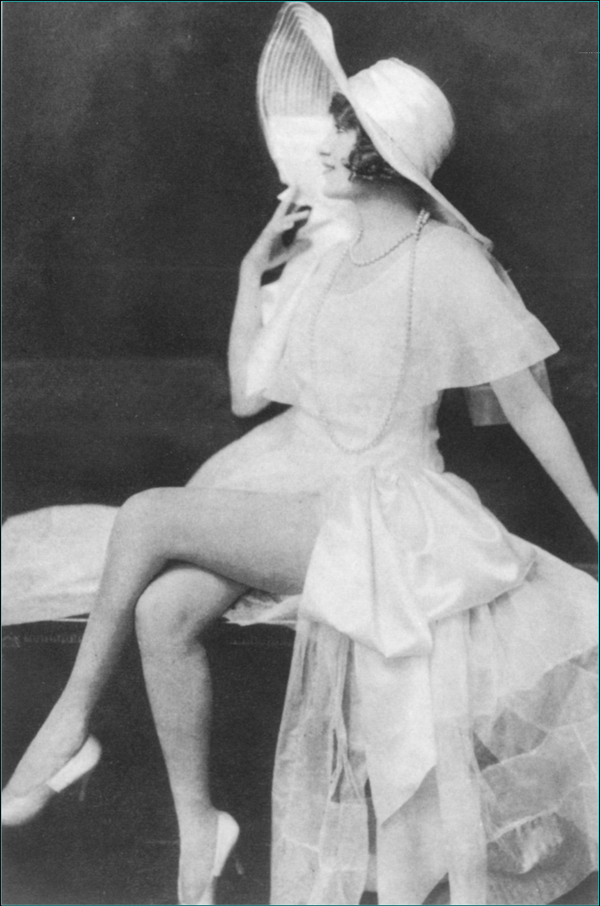 RUTH ETTING
It is unlikely that Ruth Etting's recordings have ever been out of print during the fifty years since the dawn of the long-playing disk, although her career lasted less than twenty years before she retired in 1936. Her retirement was precipitated by the shooting (not fatal) of her accompanist and soon-to-be second husband by her first husband, a petty gangster known as Gimp Snyder, who managed Ruth's career and personal life. This event became the major plot element of Love Me or Leave Me, a 1955 fictionalized film bio that starred Doris Day as Etting and James Cagney as Moe Snyder.
Etting, never enamored of the star life, welcomed her release from show business and retired to a small ranch in Colorado where she and second husband, enjoyed a long, loving relationship.
Ruth Etting had a beautiful tone, superb diction and instinctive musicianship; she was also a blond beauty. Together, her talent and beauty, made her a star of nightclubs, vaudeville, the Ziegfeld Follies and films.
For more information about Ruth Etting, send for Volume III, Issue #2 of Vaudeville Times or Bound Volume III
FRANK FAY
1897–1961
Forgotten today, except as the actor who originated the role of Mary Chase's Broadway hit, Harvey, Frank Fay was one of the brighter and more innovative monologists between the two World Wars. His relaxed, ironic style influenced a generation of stand-up comedians. A wit, a master of repartee, Fay vanquished other comedians who tried to best him
Behind the sophistication and bonhomie, Fay was a troubled, bigoted man; alcohol fueled his rage and he ended up in brawls that provided scandal for tabloids. Even when sober, he was dismissive and unpleasant, and he was disliked by most of his contemporaries.
For more information about Frank Fay, send for Volume VI, Issue #2 of Vaudeville Times or Bound Volume VI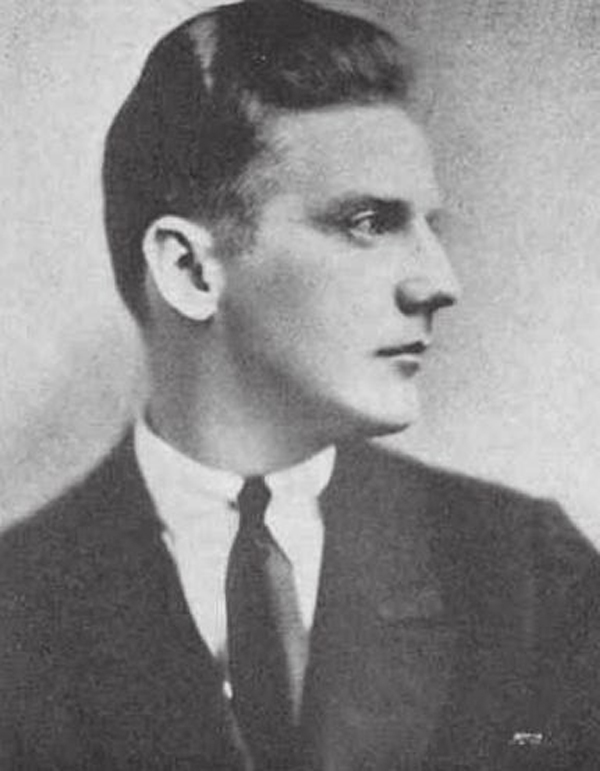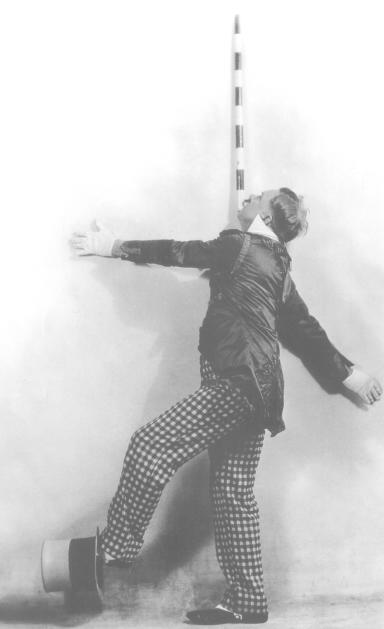 W.C. Fields
Ah, yes, W.C. Fields was the forlorn tyke who persevered despite a loveless childhood and a hard-scrabble world fraught with peril. Bedeviled by nosey parkers, mountebanks, knaves and the petty minions of law, the young lad rose above it all through a long and penurious apprenticeship. Portmanteau in hand, he traversed the farther reaches of the world and emerged a juggler extraordinaire, the Great Man of comedy.
During his years in vaudeville, W.C. Fields fashioned an act for the person that was parallel to the act he wrote for the performer. Fields regaled reporters and friends with fabrications that were another form of performance—storytelling. So well spun and true to his image were they, that even today the fable of W.C. Fields has greater currency and appeal than an honest biography. By the time he came to Hollywood to star in talking films, Fields' transformation was complete. Person, icon and commodity were all of a piece; the offstage man seemed an extension of the curmudgeonly coward he usually portrayed on the screen. Perhaps his antic spirit needed to reorder facts to find a plausible context for the person he had become, and, in doing so, history is edited into scenery and biography turned into scenario.
For more information about W.C. Fields send for Volume IV, Issue #1 of Vaudeville Times or Bound Volume IV
JOE FRISCO
As Joe Frisco made only a few memorable appearances in films, and these in films that were forgettable in themselves, the memory of him has faded. Fifty years ago any congregation of former vaudevillians reminiscing about the old days would have featured more than a few stories about Joe Frisco. Indeed, his witticisms, tales about his bad luck gambling and his constant state of indebtedness despite earning several thousands of dollars a week overshadowed recollections about his dancing.
It was as a dancer that Joe Frisco made his name. It was some time before he added verbal comedy to his act. His stutter seemed to aid rather than mar his delivery. "After they made that guy, th-th-they threw away the sh-sh-shovel!"
The Frisco jazz dance was a fast paced series of shuffles, camel walk and turns usually performed to "Darktown Strutters' Ball." He was typical of the vaudevillian who seldom changed his act. His dance act was a polished performance piece; it was what audiences expected to see and what they wanted. Later in his career, ensconced in small night clubs where the bookies and the IRS lined up at the paymaster's door, Joe had a less structured act, dancing less and less, working to the faithful who gathered for his stories.
For more information about Joe Frisco, send for Volume III, Issue #4 of Vaudeville Times or Bound Volume III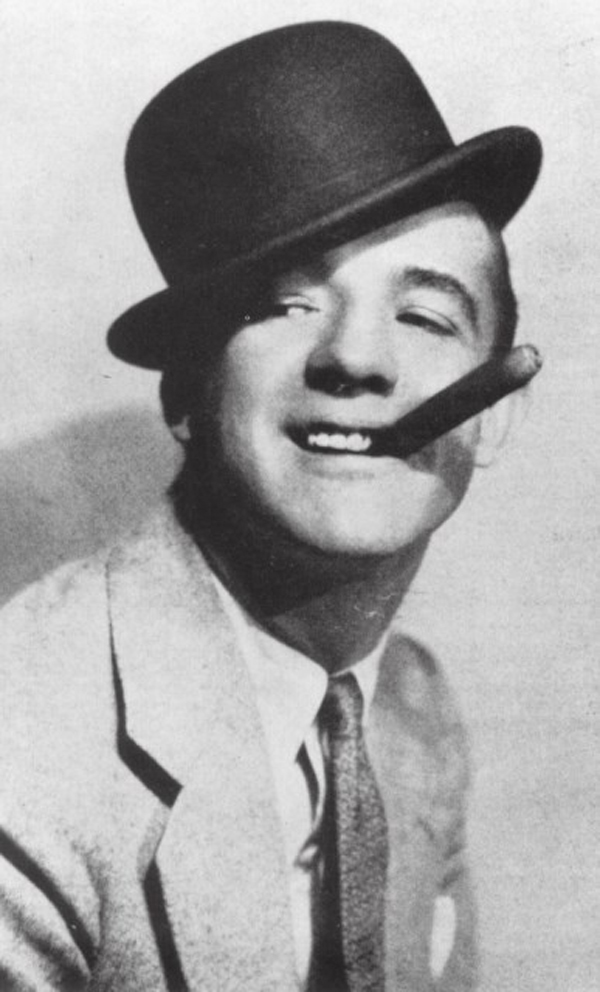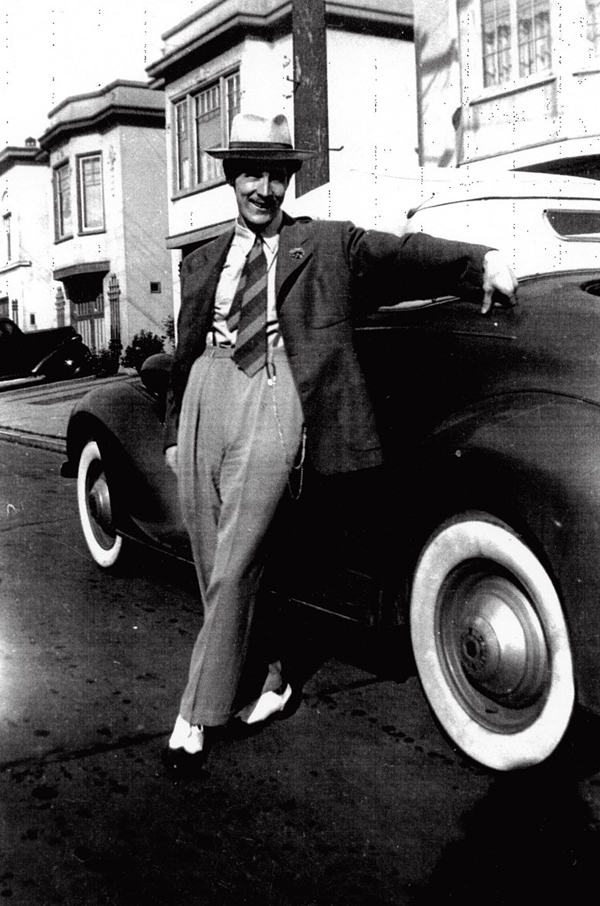 MIKE GILMORE
1917–2004
Half the theatre experience was behind the drop curtains, the travelers, cheaters and wings. Mike Gilmore served as an electrician (and historian) for many of San Francisco's (and a few of Los Angeles' stage houses from the late 1930s, the end of the vaudeville era, to the early 1980s. It was a half century of witness to the technological changes in live theatre and the on-stage and off-stage antics of some of the bigger stars in America.
Mike mistook Charles Boyer for a waiter, was an entranced audience of one for Charles Laughton who read poetry to Mike, had to deal with the big-star shenanigans of Katherine Hepburn, Yul Brynner and Danny Kaye, and enjoyed warmer relations with several famous strip tease artistes. In addition to working in theatres, Mike teched for television shows, movies and outdoor extravaganzas.
For more information about Mike Gilmore, send for Volume VIII, Issue #4 of Vaudeville Times or Bound Volume VIII
LILLIAN GOODNER
The day was much like any other June day in Montgomery, Alabama—the kind of humid, hot day that sends television weathercasters outside to crack eggs on the pavement in the hope of illustrating natural cooking on hot asphalt.
I needed to find a cool place to pass an hour downtown. The public library beckoned with a selection of current magazines. Perhaps a tour of historic Union Train Station was in order. Then I remembered a notice that had appeared in the newspaper: a free photographic exhibit of show business performers of the 1920s and 1930s at the Rosa Parks Museum Art Gallery, so I decided to drop in and enjoy the cool and quiet as the museum awaited the arrival of the next tour bus.
Tucked in the back of the museum were 60 photographs of African American entertainers. Little did I know how my thoughts and life would soon be dominated by the images of those performers. I went around the gallery several times taking in the photographs and reading the captions. There on the wall, looking back at me were Ethel Waters, Josephine Baker and Bessie Smith among others. I'd have been content to go away and called it a day had it not been for a series of ten photographs of one lady, Lillian Goodner.
Some photographs pictured her as a solo act and others as part of combination acts with other entertainers. The captions informed visitors that Lillian Goodner had performed for more than 40 years in show business and traveled all over America. Upon retiring, she moved back to Montgomery where she passed away at the age of 98 in 1994, only a short time before the exhibition had been mounted.
For more information about Lillian Goodner, send for Volume X, Issue #4 of Vaudeville Times or Bound Volume X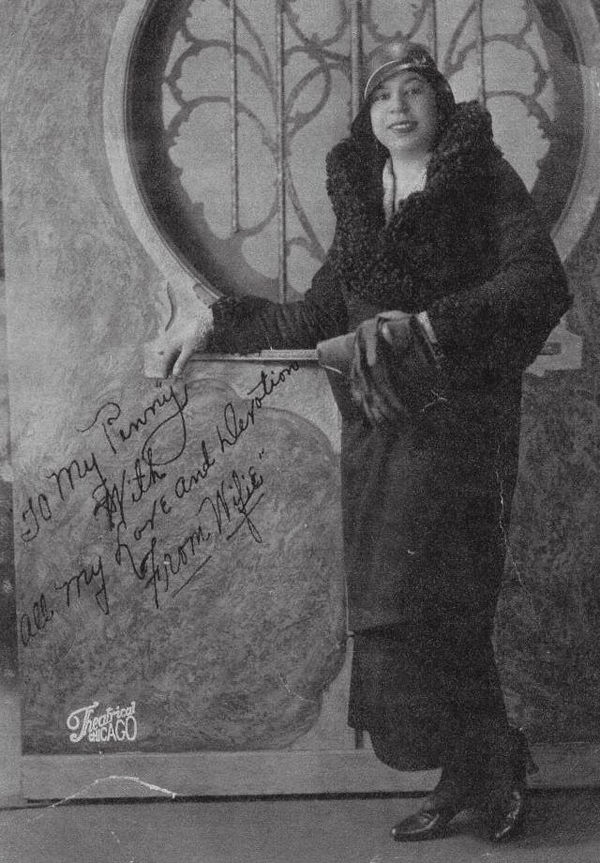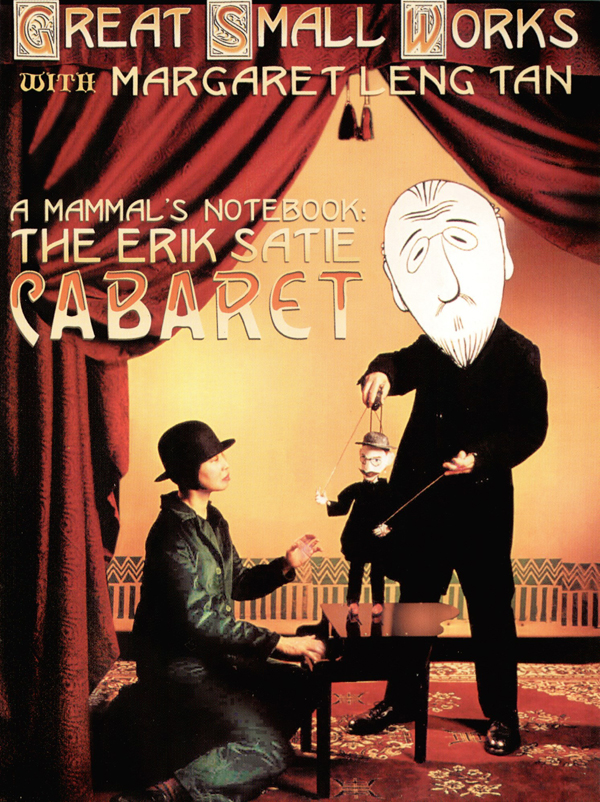 GREAT SMALL WORKS
John Bell, Trudi Cohen, Stephen Kaplin, Jenny Romaine, Roberto Rossi and Mark Sussman
Masks, stringed marionettes, hand puppets, giant effigies, toy theatre—performing objects of every kind are employed in various productions that appear under the banner of Great Small Works. Active in various combinations since the 1960s, most of the members spent time with Peter Schumann's Bread & Puppet Theatre and some return each summer to work with Bread and Puppet. Great Small Works grew out of a series of vegetarian pasta dinners and performances in Manhattan's Lower East Side. Individually and collectively, the venues they have played are a catalogue of the avant garde and alternate theatre venues of the last half of the twentieth century and the early years of the twenty-first: La Mama, P.S. 122, D.U.M.B.O., Museum of the City of New York, Jim Henson Foundation's International Festival of Puppet Theatre, Circus Amok, Circus Flora, Mabou Mines and festivals throughout Europe. Other productions have been rooted in the streets, community centers and schools of the communities they celebrate.
For more information about Great Small Works, send for Volume VIII, Issue #3 of Vaudeville Times or Bound Volume VIII
THE GREAT TOMSONI
John Thompson 1934–
Pamela Everest 1936–
Most movies inspired boys of John's generation to become cowboys or fighter pilots, Jack saw a film about a riverboat card shark and decided that he would deal and cut the cards ion his life rather than leave it to fate. He studied every book he could locate about sleight-of-hand and card manipulation. He mastered quite a few tricks but, at 12 years old, was a bit young for gambling parlors. So he learned to play harmonica and became on of the Harmonicats. He was 16 and performing in mob-owned nightclubs.
Magic was his first love, however, and witnessing performances by Cardini and Dal Vernon set the standard for John. After debuting his magic act in nightclubs, he worked his way up to the Playboy Clubs, in which he introduced his alter ego, "The Great Tomsoni, an egotistical magician whose ineptitude is really a demonstration of deftness. He dressed form ally, but telltale signs—untucked shirt or mismatched shoes gave a foretaste of his act. A dove faultlessly materialized only to dump on John's shoulder. A flurry of scarves transformed into a bowling ball instead of the promised rabbit.
John's wife, Pamela, joined the act as the bored, seen-it-all before assistant and their success led to Las Vegas.
For more information about The Great Tomsoni, send for Volume VIII, Issue #3 of Vaudeville Times or Bound Volume VIII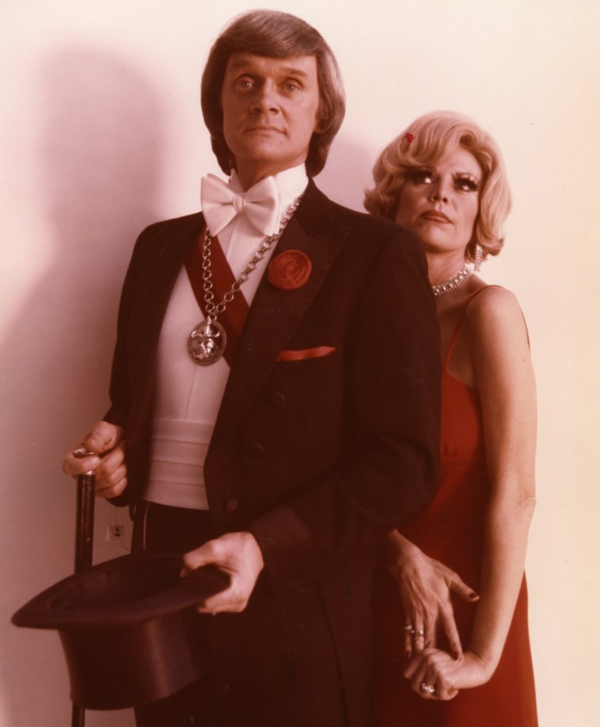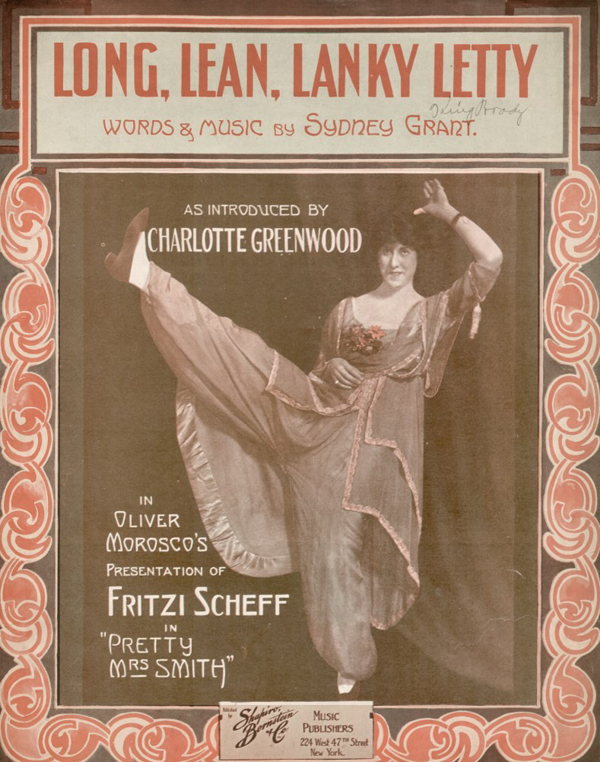 CHARLOTTE GREENWOOD
1890–1978
Oscar Hammerstein wrote the role of Aunt Eller in Oklahoma (she was contractually unable to take the role when the show debuted in 1943 on Broadway), and most obits mentioned that she played the role in the 1955 movie. When Charlotte died at age 87, much of her early career had been forgotten. All the obits also mentioned that she was known for a series of "Letty" roles, but doubtless the obit writers had little idea of what they were—a series of inexpensively produced farces that starred Charlotte as the lean, long-legged Letty Pepper.
Her career began in tiny roles in musicals. She and Eunice Burnham, another youngster competing with scenery and props for notice, decided to form a vaudeville act. Once they decided to capitalize on the disparity in their height and play for laughs, they became a hit act. As a single, Charlotte played a singing, dancing, clowning beanpole who capped her routines with high kicks
Charlotte Greenwood enjoyed a long career in the theatre from revue to musical comedy (Cole Porter) to Theatre Guild. Her work has been captured on film (best in the Buster Keaton film, Parlor Bedroom and Bath (1931) and a series of Technicolor movies in support of Betty Grable, Alice Faye and Esther Williams. Charlotte Greenwood was one of the top female comedians of the Twentieth Century.
For more information about Charlotte Greenwood, send for Volume VIII, Issue #1 of Vaudeville Times or Bound Volume VIII
HARRIGAN & HART
Edward "Ned" Harrigan 1844–1911
Tony Hart 1855–1891
Harrigan & Hart, individually and collectively—along with their company—bridged indigenous American theatre from minstrelsy to variety to travesty to vaudeville and musical comedy. Ned Harrigan wrote the skits and later plays that he, Tony Hart, Annie Yeamans, Johnny Wild & Billy Gray and a company of three dozen other actors and comedians brought to life.
Harrigan wrote about the people he knew in the Lower Manhattan of the Nineteenth Century. It was a world of immigrants—Irish, German, Italian—and Negroes, all at the bottom of the social and economic ladder, struggling and competing for a toehold in America.
The names Harrigan & Hart were synonymous with The Mulligan Guard, a fictitious and absurd fraternal and quasi-military organization that provided the principal set of characters for many of Harrigan's plays, sketches and songs. The Mulligan Guards were no more absurd or realistic than the many real, self-appointed marching and target companies that paraded themselves through New York in costumes and insignia of their own fanciful design.
Like Weber & Fields, a score of years later, Harrigan & Hart plays at their Theatre Comique were the place to find New Yorkers of every social station. Tony Hart's short career and life ended at age 36. Ned Harrigan continued to operate his company and theatre until fashions changed. In his last years Harrigan revived some of his old plays and appeared in vaudeville.
For more information about Harrigan & Hart, send for Volume V, Issue #4 of Vaudeville Times or Bound Volume V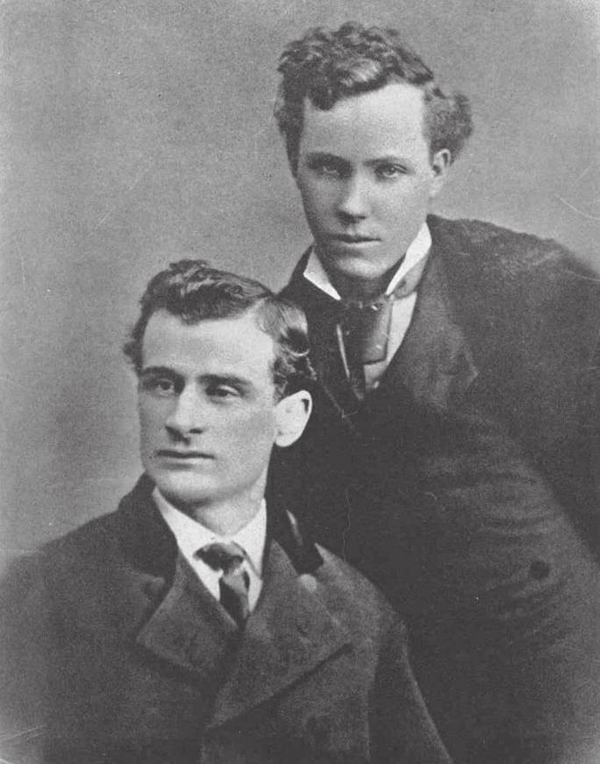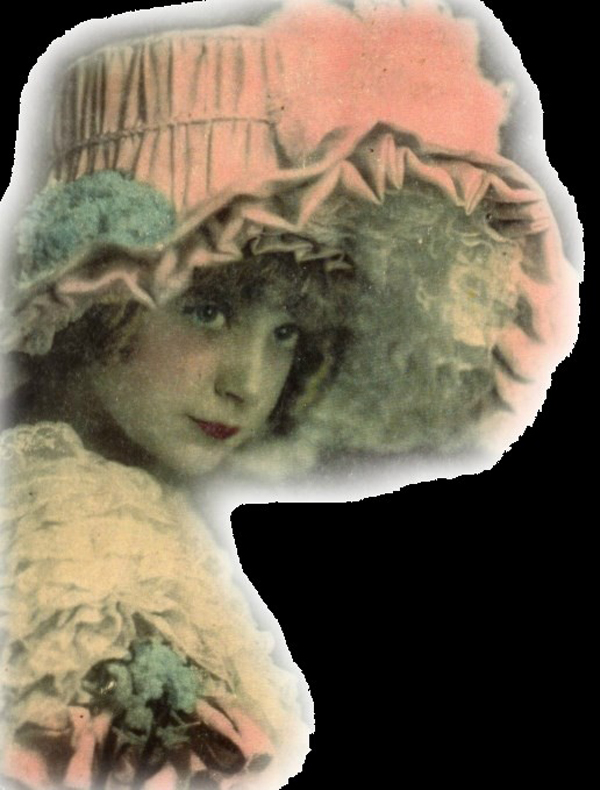 JUNE HAVOC
She began as Baby June, the child star of an act her mother put together. Supporting June were a chorus of boys and her older sister, Rose Louise, who later starred as Gypsy Rose Lee. As Dainty June, Havoc became a headliner in vaudeville until she outgrew her dainty billing and vaudeville shrank.
June Havoc has appeared in 44 films, authored two autobiographies (Early Havoc and More Havoc), written the play Marathon '33, and worked with many of the theatre's greats such as Helen Hayes, Julie Harris, Bobby Clark, Tyrone Guthrie, Stephen Sondheim and Alan Bennett. June has starred in 22 Broadway shows and plays such as Pal Joey, Mexican Hayride, Dinner at Eight, Sadie Thompson and Affairs of State, and traveled with many productions across the USA and on State Department tours abroad.
In her acting work she has ranged from classics (Aristophanes, Shakespeare, Sheridan) to giants of Broadway (Tennessee Williams, Rodgers & Hart, Edward Albee, Hal Prince) to the experimental (Jean Cocteau, Thornton Wilder). Havoc was one of the narrators of the 1997 PBS documentary, Vaudeville, and she still performs her one-woman show, An Unexpected Evening.
For more information about June Havoc, send for Volume II, Issue #4 of Vaudeville Times or Bound Volume II
JOHN & WINNIE HENNINGS
John: 1886–1933
Winnie: 1882–1961
The Kill Kare Kouple, as John and Winnie Hennings were billed, was known as a 'mixed double act' (two people, one female, and one male). They played musical instruments, sang, danced and clowned, and were even booked in the number three spot on a bill at the Palace Theatre in 1915 and got glowing reviews. But the Hennings can't be found in any history books about vaudeville [except the forthcoming Vaudeville, Old & New: an Encyclopedia of Variety Performers in America, due in bookstores 2006].
John served the USA in the Great War. Their story is the uniquely their own, but in many particulars it is representative of the thousands of fine vaudeville acts who entertained from coast-to-coast and then had to contend with a new post-war world. Their story was written by their only daughter, Nancy Hennings Tomlin.
For more information about John & Winnie Henning, send for Volume VII, Issue #1 of Vaudeville Times or Bound Volume VII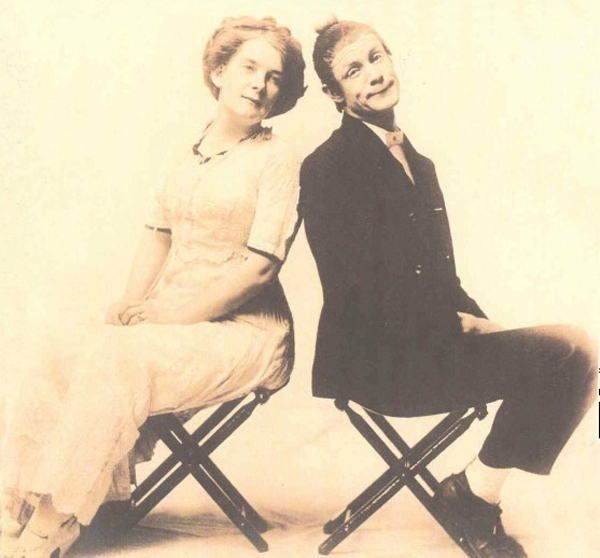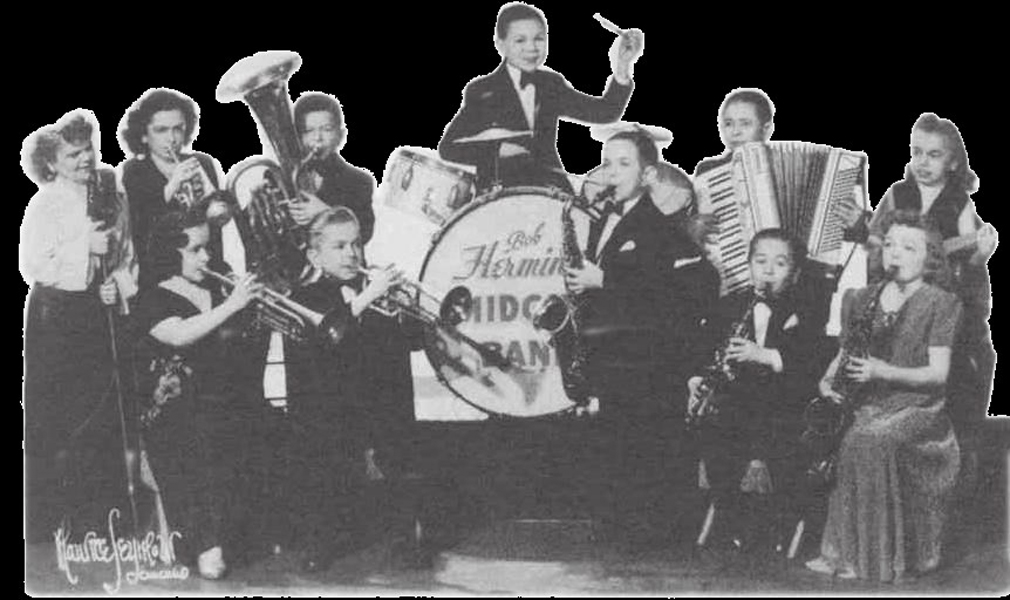 HERMINES MIDGETS
One of the attractions at Vienna's Amusement Part in 1943 was a Lilliputian village 'inhabited' by Little People. They remained successful for several seasons, but the rise of Hitler led to increasing distress and the Little People were organized into a troupe by a family of former circus performers and the company was christened "Hermines" after one of the family names.
The Little People were not trained performers, but under the Hermines tutelage, they enhanced some natural skills and learned various routines. By the time they had traveled through Europe and reached the USA, the troupe performed as a band, danced, did a wire act and acrobatics, and gave a pugilistic exhibition.
For more information about Hermines Midgets, send for Volume VI, Issue #1 of Vaudeville Times or Bound Volume VI
THE HILTON SISTERS
The Hilton Sisters (Violet & Daisy) are famous now through the Broadway musical, Side Show, but the true story of the success of these Siamese twins was surviving their childhood and being exhibited as freaks. Their release from bondage was too improbable to make credible fiction. A woman named one of the Hilton girls as a correspondent in her divorce action! During a subsequent interview with a lawyer the girls confided their plight and the lawyer helped them win their freedom.
For more information about the Hilton Sisters, send for Volume I, Issue #2 of Vaudeville Times or Bound Volume I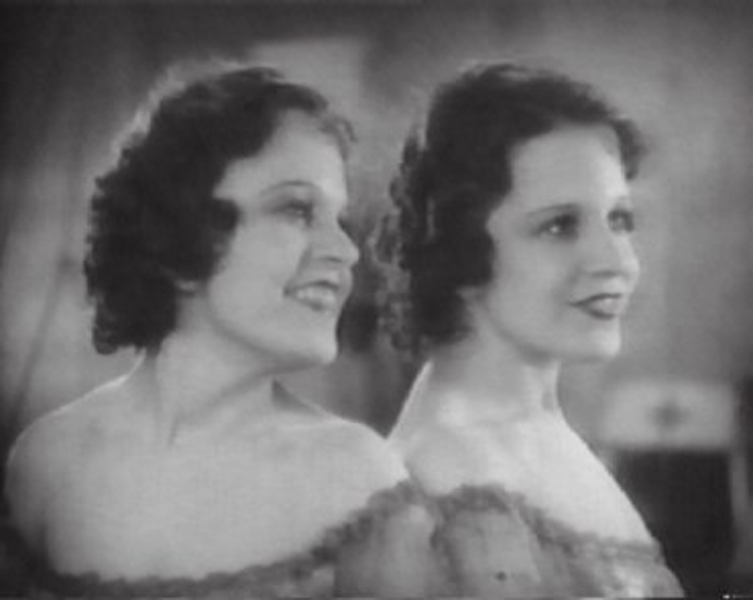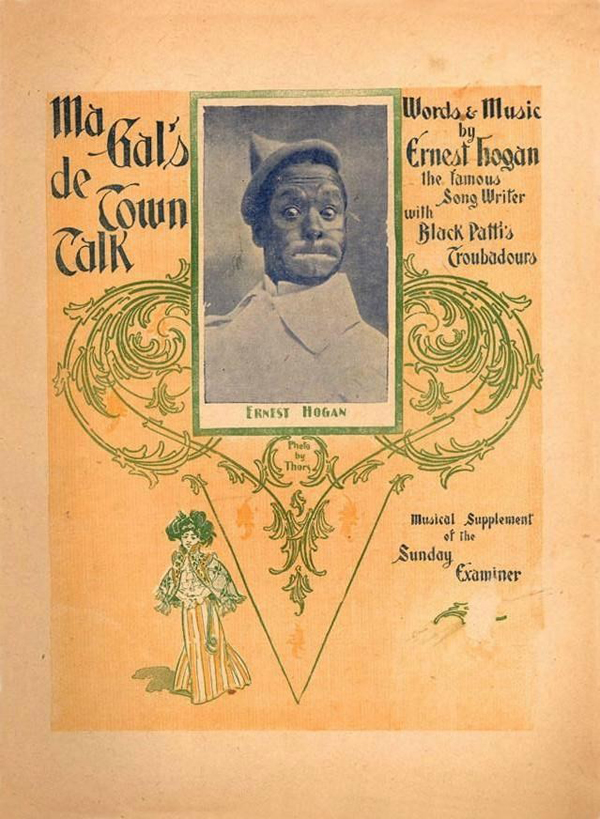 ERNEST HOGAN
1860–1909
Ernest Hogan, a comedian, singer, eccentric dancer and songwriter, was the first African-American to star on Broadway. He began, as many black vaudevillians did, as a 'pickaninny" (a corruption of the Portuguese word for small children, 'pequeniños') in Pringle's Georgia Minstrels, an all- black company. Later, he joined Black Patti's Troubadours and, as a single, played black vaudeville, revue and musical comedy, as well, often entering into management. His troupes toured as far as Hawaii and Australia and across the breadth of America.
His first great success was as the star of Clorindy, or the Origins of the Cakewalk, the landmark musical comedy that played the Casino's Roof Theatre in 1898. Its success led to other popular and profitable shows during the ensuing decade Hogan's success helped pave the way into mainstream show business for contemporaries such as Sam Lucas, Bob Cole, Bert Williams & George Walker and those who followed, like Flournoy Miller & Lyles, Florence Mills, Ethel Waters and Bill Robinson. Ernest Hogan died of tuberculosis, his career cut short at the height of his popularity.
For more information about Ernest Hogan, send for Volume V, Issue #3 of Vaudeville Times or Bound Volume V
DEWOLF HOPPER
DeWolf Hopper, despite his Colonial lineage, was drawn to the stage where he became one of the foremost comedians of his day in vaudeville, light opera and theatre. He was tall and possessed of a deep, sonorous voice that could be heard in every corner of the largest theatre. Despite the many roles he essayed in vaudeville, comic opera and even Keystone film comedies (!), he is forever identified with his recitation of "Casey at the Bat."
For more information about DeWolf Hopper, send for Volume I, Issue #3 of Vaudeville Times or Bound Volume I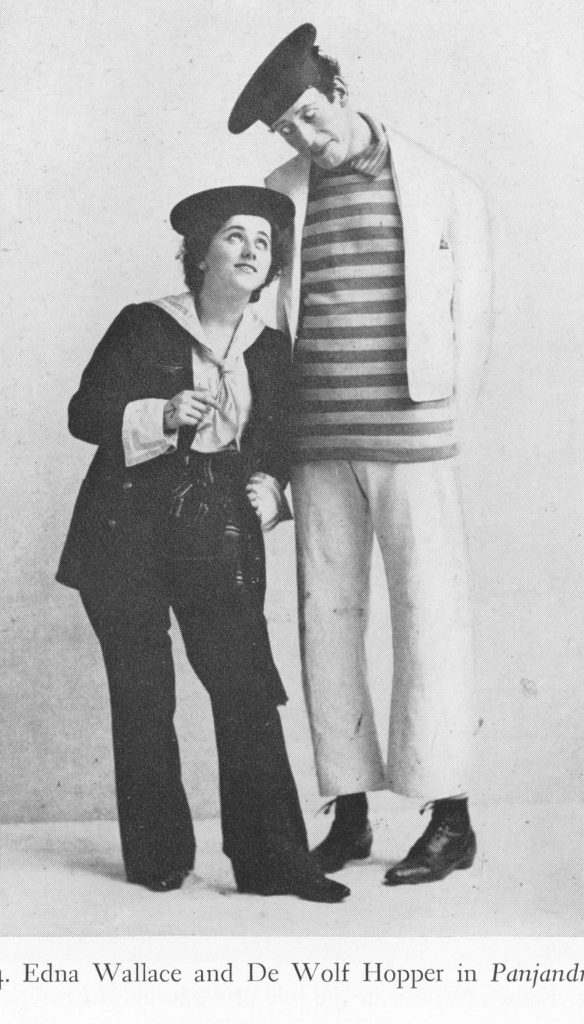 RUDY HORN
Rudy Horn grew up in Chicago show business and he is an articulate spokesman for his generation. His father owned a well-known nightclub that featured top acts like Ruth Etting and Ray Bolger. Inspired by Bolger, Rudy taught himself to dance by watching the great ones. At nine years old he won the local Amateur contest three times in a row, so a couple of year later he hit the road in pursuit of a career.
His road trip didn't last long. His family found him and brought him home where he remained for another two years before striking out on his own again. This time he made it. He recalls soda jerking with Jimmy Cagney while they auditioned for chorus jobs, and sharing digs with Dean Martin before he met Jerry Lewis.
But although everything about show business was dazzling in the early 1920s, turmoil was only a few years away. By the time he had established himself in vaudeville, Rudy, like all of the final generation of vaudevillians, was confronted by the rise of network radio, talking pictures and the Great Depression, which toppled King Vaudeville.
Because Rudy could dance, sing, do sketch comedy and stand-up he fashioned a good career out of nightclub work as an emcee and performer. When WWII clouded the world scene, Rudy-along with friends like John Bubbles-went overseas and entertained the troops. Rudy Horn remained in Europe for nearly twenty years.
For more information about Rudy Horn, send for Volume III, Issue #3 of Vaudeville Times or Bound Volume III.
ALAN HOWARD
1961–
Alan started with magic, got psyched by comedy and then, in his late teens, turned to juggling. Oddly, his high school offered a juggling class, and Alan signed up. He attended juggling meets and convention; he discovered the International Jugglers' Association (IJA) and realized he, too, could turn professional.
Still in his hometown of Cleveland, Alan met Bobby May, The International Juggler, a professional then at the end of a great career in the USA and Europe. Bobby May took Alan Howard under his wing and gave his tips.
Alan's professional career took him into nightclubs, theme parks, casinos, theatres and cruise ships.
Alan's act has evolved into comedy juggling. The stunts he performs are difficult but he maintains a stream of patter, often self-deprecatory, while juggling everything in sight. Cruise ships allow Alan to work at a more even pace in top notch floating theatres. It also gives him time for his other professional endeavor: editor of Juggling magazine. In 2017 he was selected to edit the magazine of the Society of American Magicians.
For more information about Alan Howard, send for Volume VII, Issue 2 of Vaudeville Times or Bound Volume VII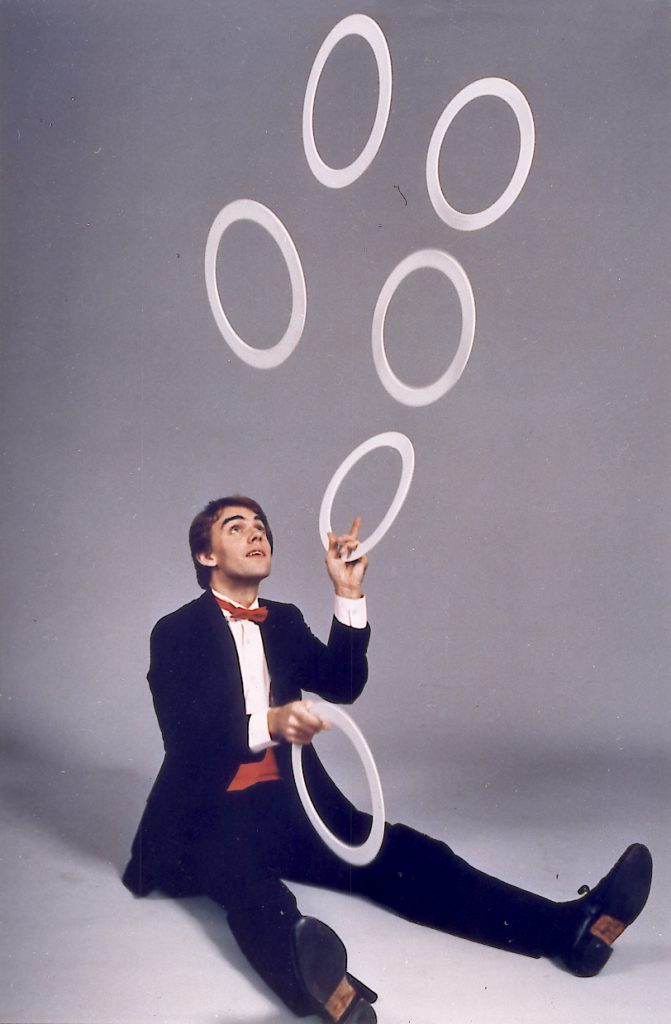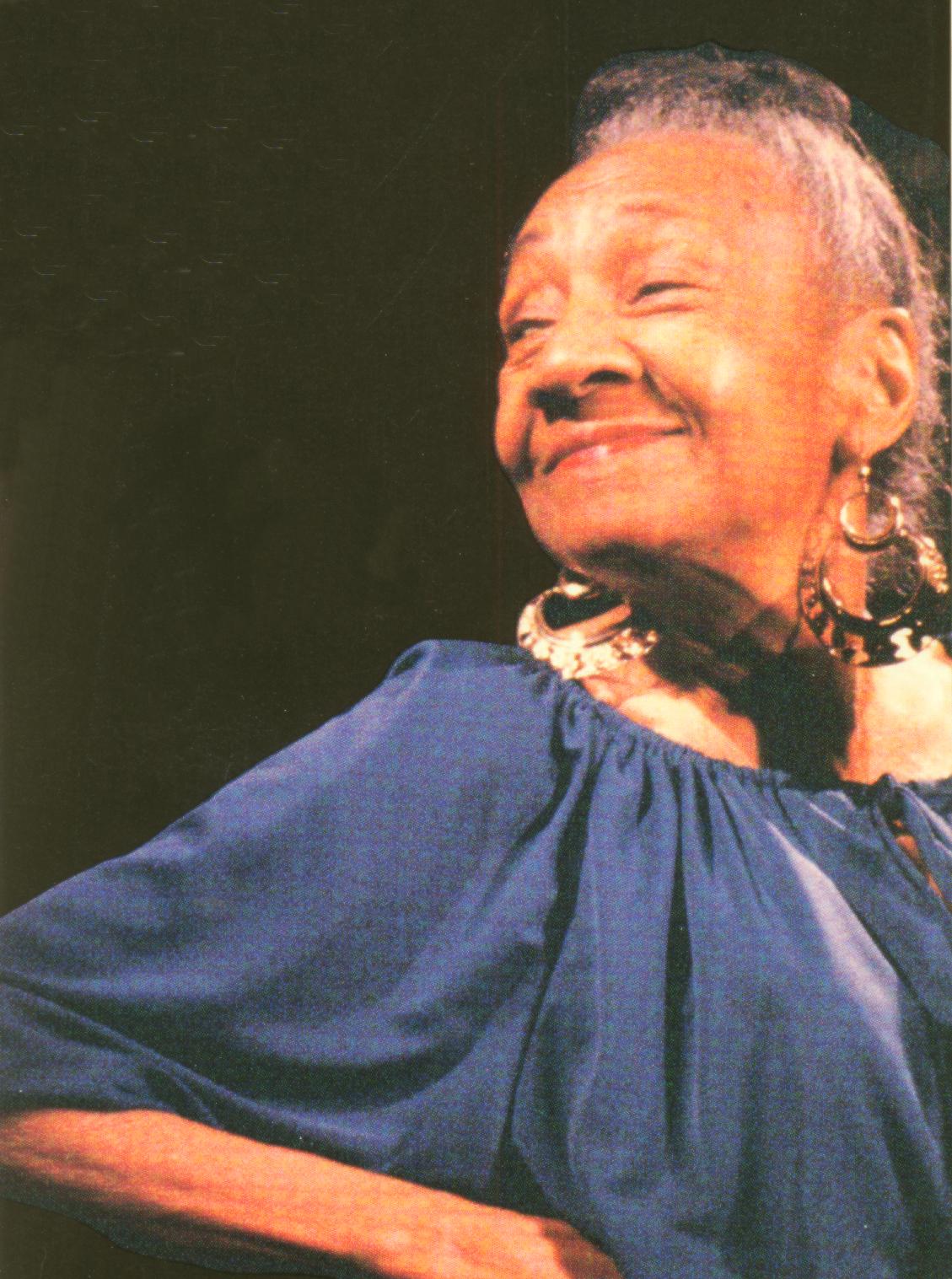 ALBERTA HUNTER
Alberta Hunter was one of the dozens of blues singers who flourished in black nightclubs and vaudeville of the 1920s. She ensured her professional survival by meeting every era and each circumstance realistically and fearlessly. She became a songwriter whose compositions spanned decades from "Downhearted Blues," Bessie Smith's first hit recording, to a film score for a 1980s Robert Altman film.
For much of the 1930s Alberta, smartly gowned and styled, played the cabarets of London and the Continent and appeared in musical theatre, most notably opposite Paul Robeson in the London production of Show Boat. The 1940s and early 1950s found Alberta in a U.S. Army uniform heading the first "Negro" USO entertainment unit overseas. She performed for troops throughout Asia in both World War II and the Korean Conflict.
At age 59 and the end of further opportunity, she retired, trained for nursing and worked as an RN until 1977 when she retired again. A few months later she made a most memorable comeback, appearing in nightclubs and making records until her death at age 89. Until her last breath and performance, she was sharp as a tack and her voice snapped and growled its way through the lyrics and music, telling salty tales of love won and discarded.
For more information about Alberta Hunter, send for Volume II, Issue #4 of Vaudeville Times or Bound Volume II
WALTER HUSTON
1884–1950
The Huston family was Hollywood royalty; his son, John, the director and writer, had both talent and flair. But Walter, who capped his career with an Academy Award, had modest beginnings in small time stock theatre and small time vaudeville. Walter Huston was tall, manly and handsome, but he didn't make much of an impact as an actor until after his success in vaudeville. It was his second wife, Bayonne Whipple who sacrificed star career for his. She made John her vaudeville partner and then took to managing his solo career.
Huston became an accomplished song-and-dance comedian in vaudeville and finally attracted the attention of playwrights and Broadway producers. He switched to the legitimate stage and then became a movie star and married again.
For more information about Walter Huston, send for Volume VII, Issue #3 of Vaudeville Times or Bound Volume VII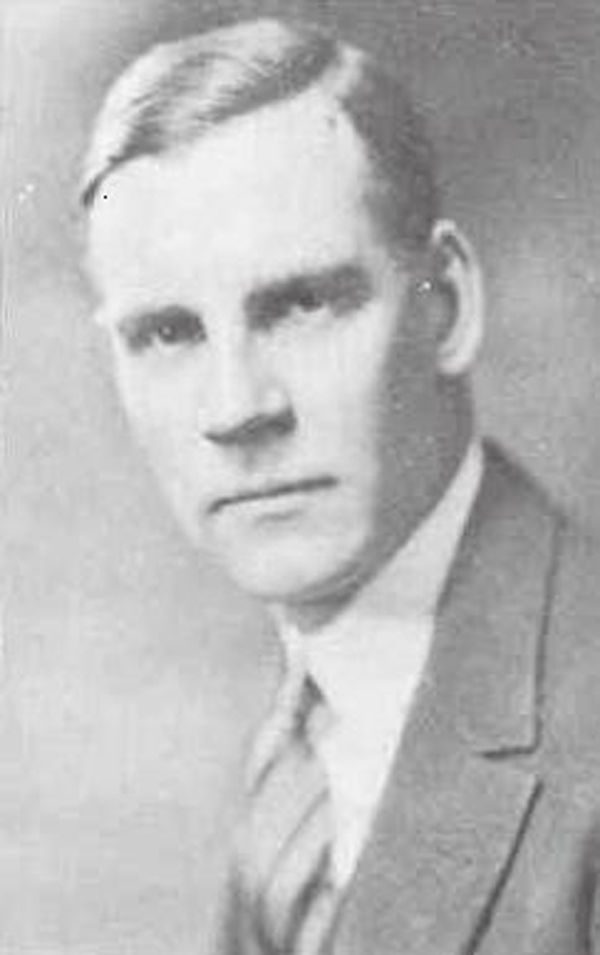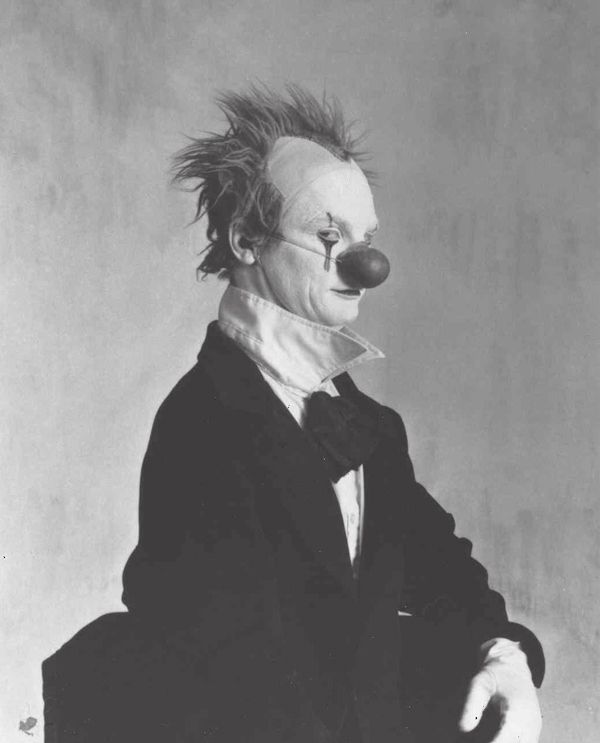 BILL IRWIN
Although Bill Irwin is the best known of the 'new vaudevillians,' the term really doesn't suit him for he does not long stay with any one act or show. He has performed as a physical clown-mime-comedian (Pickle Family Circus, The Regard of Flight, Fool Moon), a serious actor (Shakespeare, Chekhov, Samuel Beckett, Dario Fo, Berthold Brecht) and an accomplished dancer (both modern dance and tap). In addition to his New York stage shows which have brought him many awards, he has been featured in a dozen or so Hollywood movies and on television as a regular on Sesame Street, Northern Exposure and Legion.
The Signature Theatre in Times Square is devoting its 2003-2004 season to works written, staged and starring Bill Irwin, including a commedia dell'arte performance piece, Mr. Fox: a Rumination (on the life of George L. Fox) and a revisiting of The Regard of Flight.
For more information about Bill Irwin send for Volume VI, Issue #3 of Vaudeville Times or Bound Volume VI
TONY JACKSON
Tony Jackson was one of the ragtime piano players who worked as "perfessors" in New Orleans bordellos until the U.S. Navy shut down Storyville in 1917. Besides Tony there were Jelly Roll Morton, Game Kid, Buddy Carter and many more, all of them helping to create blues and jazz. He left the gilded parlor of Madame Gonzales to conduct the Whitman Sisters band in one of their earliest tours in 1904.
Tony Jackson formally adapted his improvisations into songs published as sheet music. His most famous, "Pretty Baby" ("Oh, I want a lovin' baby, and it might as well be you") was a love song to a young male prostitute.
For more information about Tony Jackson, send for Volume II, Issue #3 of Vaudeville Times or Bound Volume II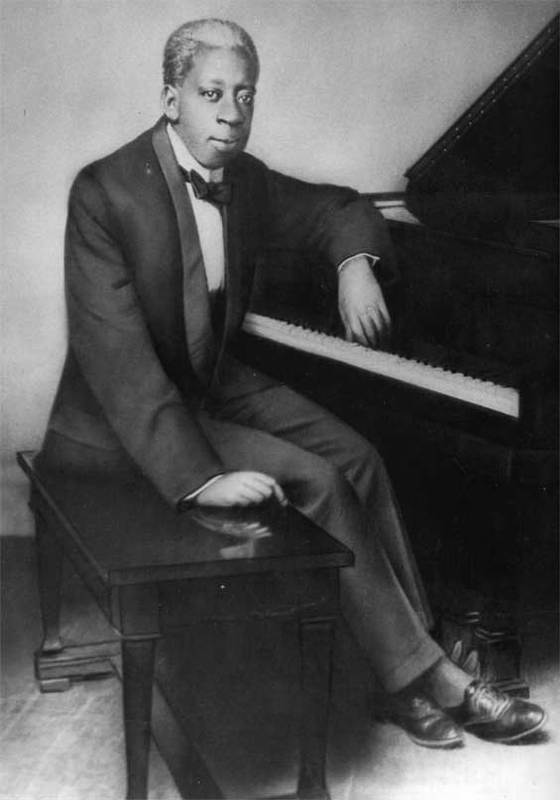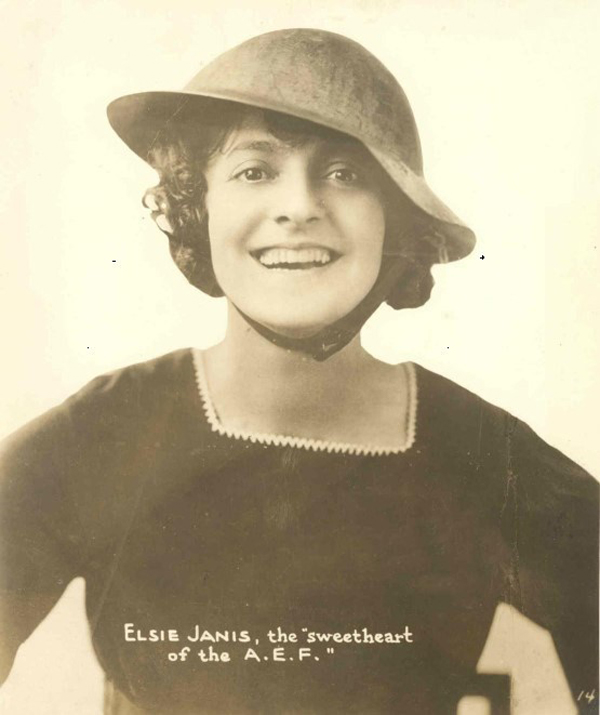 ELSIE JANIS
1889–1956
During and after the Great War Elsie Janis was lovingly called "The Sweetheart of the AEF (American Expeditionary Forces)" and "The Sweetheart of the Doughboys." Twenty years earlier, she was known coast to coast as "Little Elsie," and she was one of vaudeville's youngest, most beloved and highest paid stars. She had a pleasant voice, was a supple dancer and especially was noted for her impersonations of famous stage stars. In the 1910s she did excellent imitations of the major stars of the day: Alla Nazimova, Ethel Barrymore, Beatrice Lillie, Harry Lauder, Eddie Foy, George M. Cohan, John Barrymore and Will Rogers.
She and vaudeville ended their runs almost simultaneously. After working hard in vaudeville and revue for 35 years, Elsie Janis retired to Hollywood where she lived quietly, wrote for the movies and enjoyed the company of old friends.
For more information about Elsie Janis, send for Volume VII, Issue #1 of Vaudeville Times or Bound Volume VII
JAZZ BABIES
Jazz didn't often give a bow of acknowledgment in vaudeville's direction, but many of the jazz giants got their first gigs in vaudeville. Some of those who served their apprenticeship either on stage in a Whitman Sisters show or playing for the show in their pit band were: Mary Lou Williams who was a fine jazz pianist and composer, the superb guitarist and singer Lonnie Johnson, Count Basie who created one of the most swinging ensembles in jazz band history, and Pine Top Smith the stride pianist who gave boogie-woogie a name. What a band they must have had!
For more information about Count Basie, Lonnie Johnson, Mary Lou Williams and Pine Top Smith, send for Volume II, Issue #3 of Vaudeville Times or Bound Volume II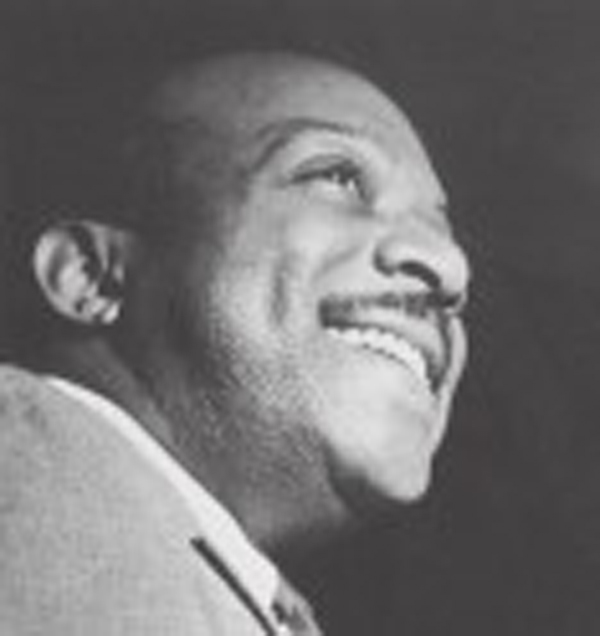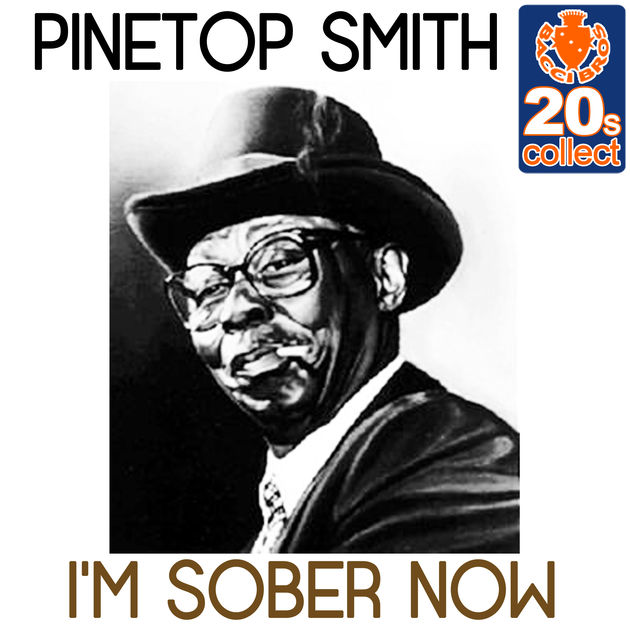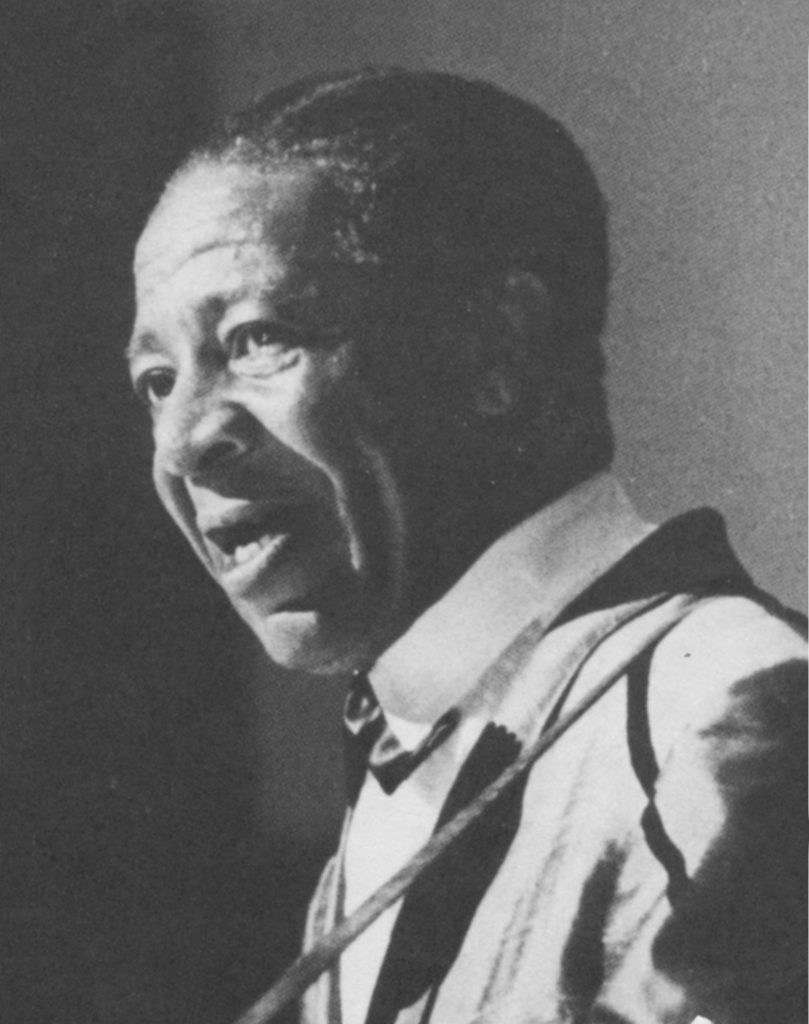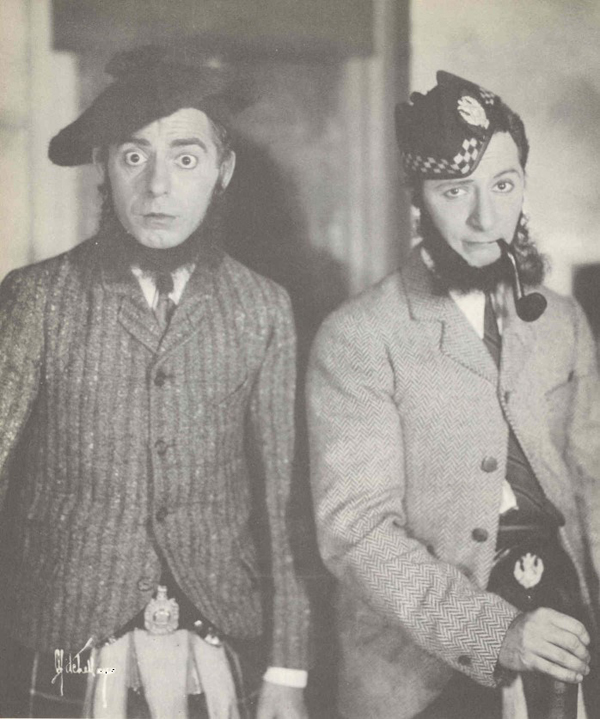 GEORGE JESSEL
1898–1981
He was vaudevillian to the bone, but George Jessel spent much of his career trying to expand his horizons. He began as part of a troupe of boy singers, that included Walter Winchell, and then became a featured performer in Gus Edwards' kiddie revues. George matured into a stand-up comedian and actor, and his greatest role was that of The Jazz Singer, a role he created for Broadway but Al Jolson played in the film.
Jessel became a Hollywood and Broadway producer, he authored several books that were examples of graceful writing and became known as the Toastmaster General of the United States, an informal title that he may have taken more seriously than most. Jessel's life was exciting, especially off the stage, where he allowed himself to be consumed in a series of romances. As he got older, they got younger, and Jessel the great vaudevillian was obscured by the old entertainer who made news for the young women he courted and the radical right wing politics he espoused.
For more information about George Jessel send for Volume VII, Issue #3 of Vaudeville Times or Bound Volume VII.
JAY JOHNSON
Johnson and his wooden sidekick, Bob, became the most famous ventriloquist pair in show business during his stint on the ground-breaking TV show, Soap. His television appearances go well beyond his four years with Soap. He has appeared on most of the talk shows of the past two decades, hosted three comedy specials, produced and performed in two network specials and two HBO specials.
Jay began his career as a teenager growing up in Dallas, where he and Bob made television commercials for local businesses. He continued with ventriloquism and comedy through college, where he earned a degree in marketing. As a result of both his gift as an entertainer and his background in business, Jay Johnson is in demand for corporate functions.
In the late 1990's, an agent approached Johnson with an offer to work on a cruise ship. With the influx of mega ships, cruise lines, however, the professional standards and the pay attracted top flight performers. Performing on cruise ships give Jay the opportunity to enjoy the company of fellow professionals, and he muses that it must be similar to the camaraderie that old-time vaudevillians enjoyed.
Jay Johnson recently began to perform in a new venue, the legitimate theater. He has written and performed a one-man show called The One and Only, a carefully crafted deconstruction of ventriloquism that examines its history. It opened on May 13, 2004 for a limited run at the Atlantic Theater Company, an Off-Broadway house in New York.
For more information about Jay Johnson, send for Volume VII, Issue #2 of Vaudeville Times or Bound Volume VII.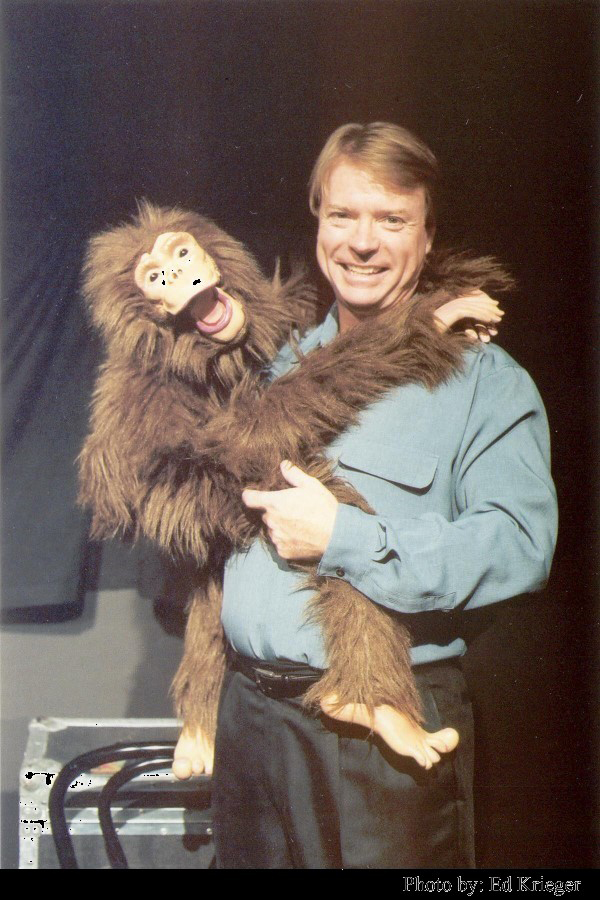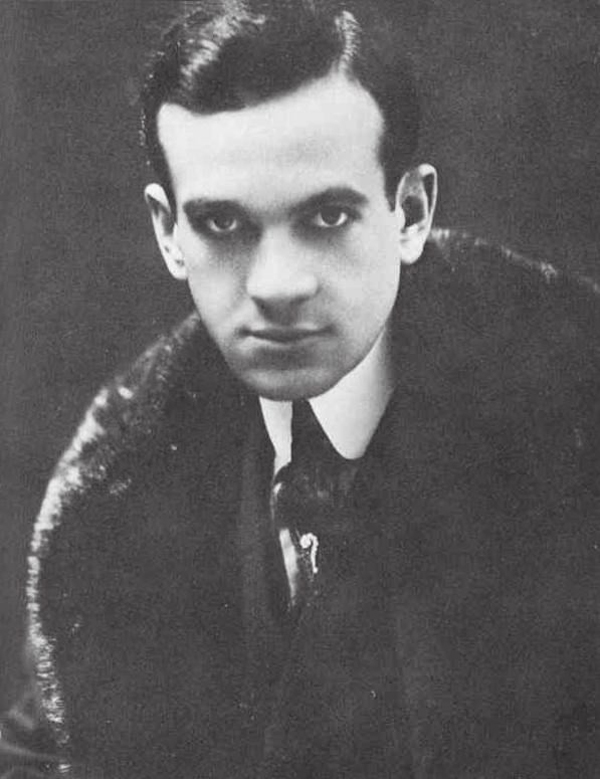 AL JOLSON
1886–1950
Perhaps no one enjoyed entertaining as much as Al Jolson. For him it was the reason to live. He lit up the stage with his energy and desire to seduce an audience. For this and for his talent as a singer and light comedian, Al Jolson was more often called the greatest entertainer of his era.
Jolson's heyday was in the 1910s when he starred in a string of popular revues for the Shuberts at the Winter Garden. After each show made its hit in New York, Al toured with it across America. He even worked on his days of, hosting and dominating a series of Sunday night 'concerts' at the Winter Garden. As a teenager in vaudeville, Al had switched early to blackface and kept his minstrel persona through up into the Depression years, long after most entertainers had eschewed corking up to impersonate African Americans.
Al was not as popular with his fellow entertainers. Many found him too egotistical, even by show biz standards, too opportunistic and insensitive. But Al was not without champions, those who knew of his quiet charity.
With the film version of The Jazz Singer, Jolie transformed himself from a Broadway fixture into a silver screen fixture in a series of 1930s movie musicals. At the same time, he extended his career by becoming a popular recording star and the singing host of network radio shows. As soon as the GIs trouped off to fight WWII and the Korean Conflict, Al Jolson was with them to sing and tell jokes. His career capped in the late 1940s with a movie musical based on his life. So successful was The Jolson Story that the studio made a sequel, Jolson Sings Again. Jolson was back on top, making hit records, entertaining the troops and mulling television offers when he died of a heart attack.
For more information about Al Jolson, see Volume V, Issue #3 of Vaudeville Times or Bound Volume V.
HELEN KANE
1903–1966
Still famous as the Boop-a-doop girl, her posthumous fame rests upon a cartoon series, Betty Boop, which was the source of a plagiarism suit by Ms. Kane. The case was dismissed because a black performer, Baby Esther, was seen to have originated the baby-talk style of singing that was the claim to fame by both Helen Kane and Max Fleischer's cartoon character, Betty Boop.
Although she bobbed her hair and adopted the flapper look, Kane was never a 1920s flapper. While several of her songs were somewhat suggestive, Helen's character was a stand-in for the majority of young women of her day, rural and urban who were caught between traditional mores and emergent social freedoms.
For more information about Helen Kane, see Volume VI, Issue #2 of Vaudeville Times or Bound Volume VI.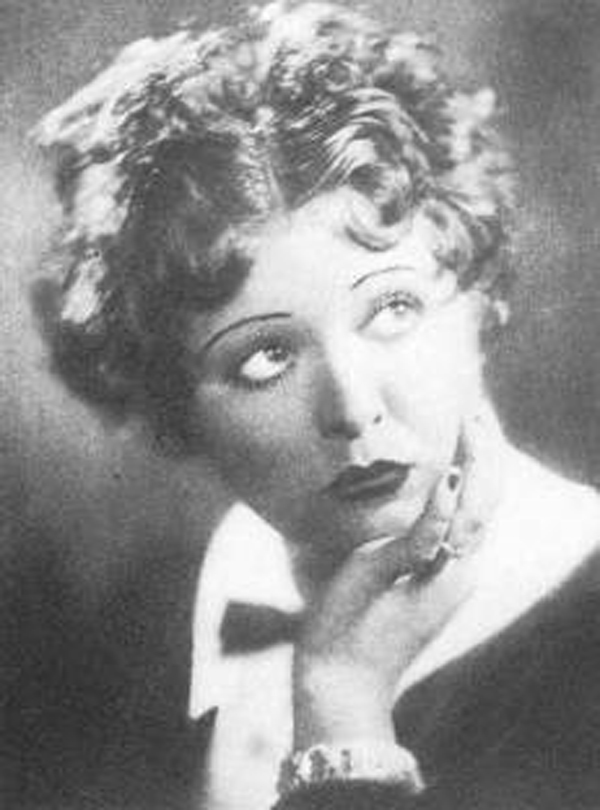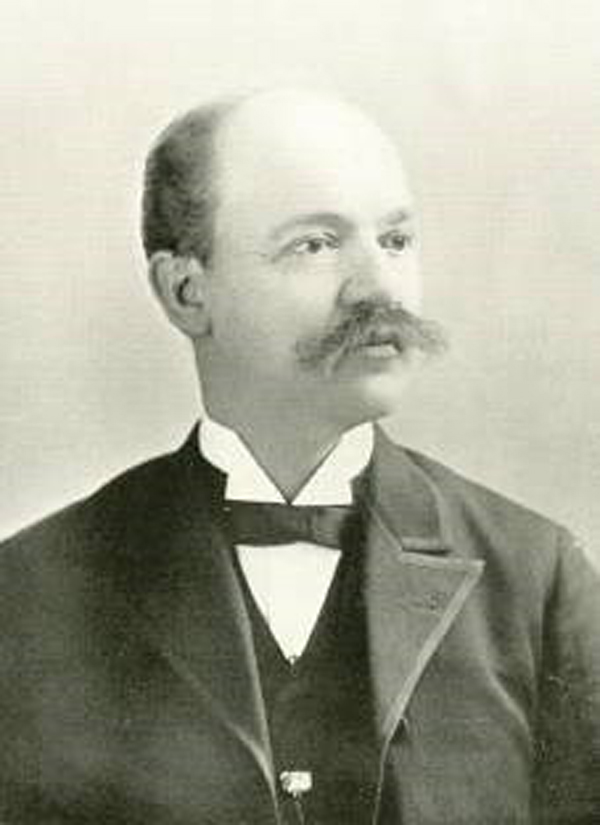 B.F. KEITH
1846–1914
Regarded by many as the founder of vaudeville, it is no easy to matter to assess the accomplishments or scrutinize the character of Benjamin Franklin Keith. He spent most of his formative years working in circuses and dime museums. When he ventured on his own he unsuccessfully teamed with a succession of partners, but it was his wife, Mary (who had the backing of the Roman Catholic archdiocese centered in Boston) and Edward Albee, a fellow circus man and New Englander who started as Keith's employee, who became Keith's invaluable partners. The questions are whether Keith truly was the genius behind the largest and most important vaudeville circuit in America, was more a figurehead than the head of a vaudeville empire or a canny back-country New England who knew good advice from bad and acted on it.
AVM recommends Vaudeville Wars: How the Keith-Albee and Orpheum Circuits Controlled the Big Time and Its Performers by Arthur Frank Wertheim (2006, Palgrave-Macmillan, ISBN 1403968268).
For more information about B.F. Keith, see Volume IX, Issue #2 of Vaudeville Times or Bound Volume IX.
JOHN T. KELLY
John T. Kelly, born in 1855 and forgotten today except for his years with the Weber & Fields Music Hall, was one of the first generation of vaudevillians. He began his career as a rough, knockabout Irish comic in saloon shows with Thomas J. Ryan, a rocky partnership that survived nearly 15 years. Kelly joined the Weber & Fields Music Hall troupe and stayed the entire 8 years of its fabled existence.
For more information about John T. Kelly, send for Volume I, Issue #3 of Vaudeville Times or Bound Volume I.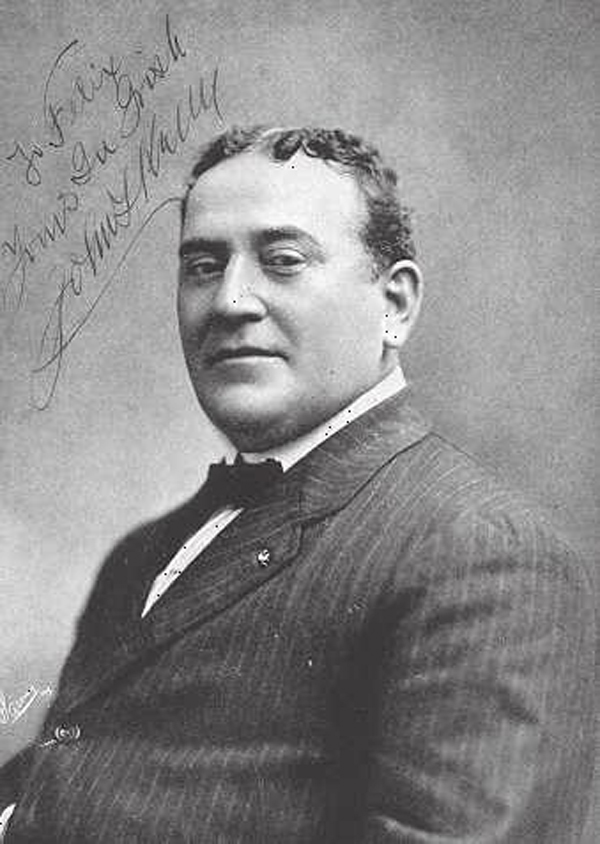 JOHN W. KELLY
1857–1896
One of the first, if not the first, monologists to appear in 'street clothes' instead of blackface or ethnic attire and make-up, Kelly ambled or staggered on stage and kept his audiences regaled with story-telling for a half hour or more. He was a witty man, and wrote his own material or, inspired by libation, improvised on the spot. If he had imbibed too much, he dragged a chair on stage and sat and asked the audience for monologue topics.
It was an era of intense anti-Irish and anti-Catholic prejudice. His parents had emigrated from Ireland and young Kelly followed his dad to the steel mills, where the youngster kept his co-workers amused. A songwriter as well as a monologist, Kelly wrote a ditty about his fellow steel worker, "Maloney the Rolling Mill Man," and ever after he was known as J.W. "Rolling Mill" Kelly. After a stint in minstrel shows, J.R. Kelly found his own style and remained a variety and vaudeville favorite until his death in 1896 at age 38 of Bright's Disease.
For more information about John W. Kelly, send for Volume VI, Issue #4 of Vaudeville Times or Bound Volume VI.
WALTER C. KELLY
The Virginia Judge, as Kelly was billed for most of his three decades in vaudeville, was a consistent audience favorite and Kelly remained a headliner for a quarter of a century. He invariably wore a large black coat and spoke standing behind a rostrum and enacted all the parts in his monologue.
He patterned his characterization after several judges in Virginia that he had witnessed dispensing summary sentencing to the African Americans who were hauled before the bench. Unfortunately, Kelly was racist, and, instead of sympathizing with the poor, undereducated defendants who were unrepresented by counsel, Kelly was charmed with the wit and courtroom technique of these Virginia judges playing to the galleries.
A master of dialects, his monologues were fast-paced dialogues between the defendants and the Judge:
"Tell me, Jim, how old are you?"
"I'se jest twenty-fo', Jedge."
"Well, Jim, you will be just twenty-five when you get out."
Walter C. Kelly was regarded as the wayward elder son of the ambitious Irish immigrant family that came to be known as the Philadelphia Kellys. His younger brothers included the playwright, George E. Kelly, Olympic athlete John B. Kelly and several successful businessmen. Film star Grace Kelly was his niece.
For more information about Walter C. Kelly, send for Volume III, Issue #2 of Vaudeville Times or Bound Volume III.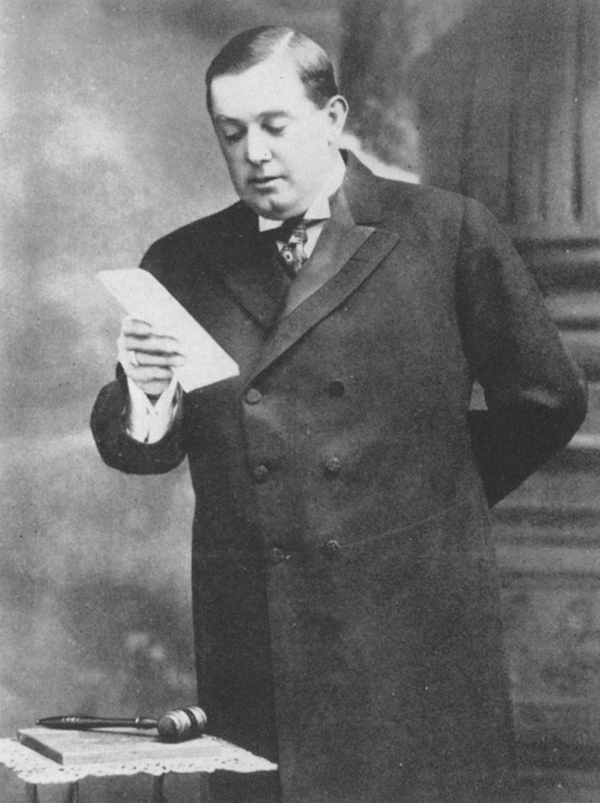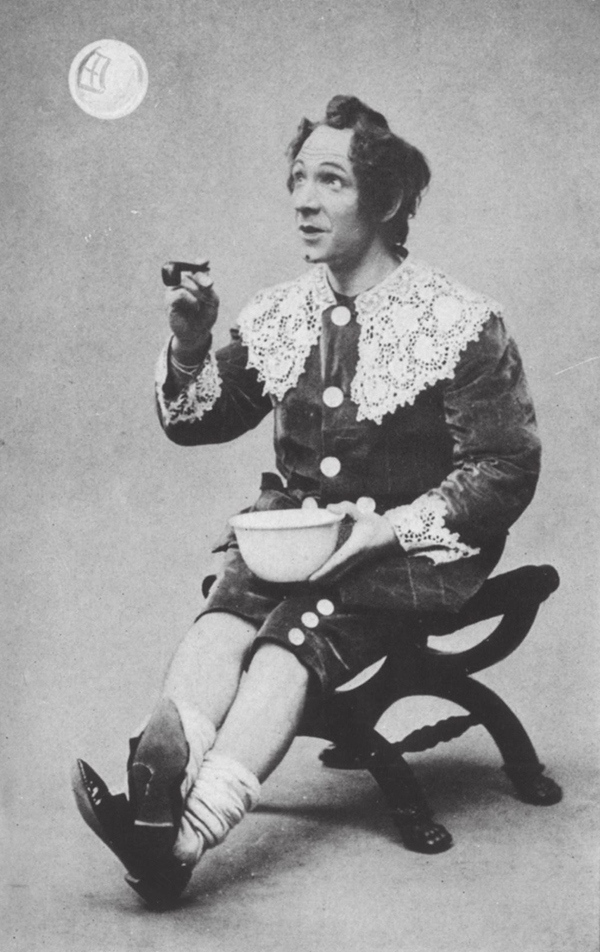 HARRY LAUDER
1870–1950
Perhaps the first vaudeville performer to achieve star status throughout the English (and Scottish) speaking world, Harry Lauder remained a favorite with international audiences for more than thirty years. His debut as a singer of comic songs began in 1882 when he was not yet twelve.
Harry was a beloved entertainer. His act was a blend of storytelling and sly humor with sentimental ballads like "I Love a Lassie," "Roamin' in the Gloamin'," and "The End of the Road," and comic songs such as "Stop Yer Tickling, Jock" which he giggled more than sang. His last performance, a year before his death, took place in 1949, although he had not worked full time since the early 1930s. His act was longer than most headliners and the audience patiently waited as his accompanist played interludes while Harry ducked back stage for a quick change of costume.
He had begun life as a poor lad whose family and community were destined for the hard labor of coal mines in Scotland. Schooling was catch-as-catch-can. With pluck, wit, a sense of self-worth and fair dealings, Harry Lauder transformed his life but stayed true to simple values as he rose in the entertainment world to become a star of British Music Hall, American Vaudeville, Australian Variety, records, radio and films, and be knighted as Sir Harry.
For more information about Harry Lauder, send for Volume III, Issue #1 of Vaudeville Times or Bound Volume III.
EVA LE GALLIENE
1899–1981
The most serious of all the great ladies of the American Theatre of the Twentieth Century, Eva turned to performing in vaudeville twice. Once in the early 1930s when there was still big-time vaudeville and again in the late 1930s when she was one of three or four acts preceding the major event—a feature motion movie. Ms. Le Gallienne also performed in two vaudeville revues, the first in 1919 as a cast member in Elsie Janis and Her Gang. Twenty years later she rejoined Elsie in Frank Fay Vaudeville, which also starred Smith & Dale and featured strip-teaser, Maxine de Shone.
Eva Le Gallienne was a biographer of her friend and mentor Eleanor Duse, and a friend to Sara Bernhardt, Constance Collier, Alla Nazimova and Margaret Webster, all titans of the theatre. Eva founded the Civic Repertory Theatre, translated and adapted plays from other languages, directed, designed and acted. She was a champion of Ibsen and Chekhov.
For more information about Eva Le Galliene, send for Volume VI, Issue #2 of Vaudeville Times or Bound Volume VI.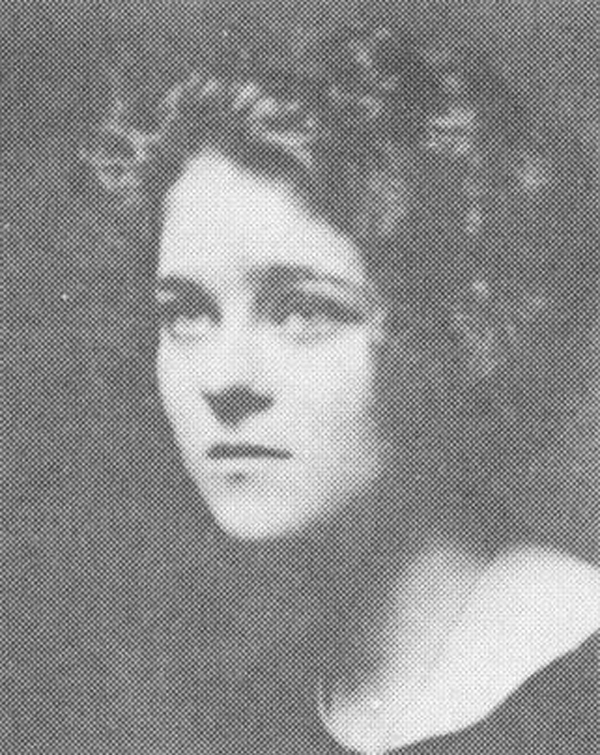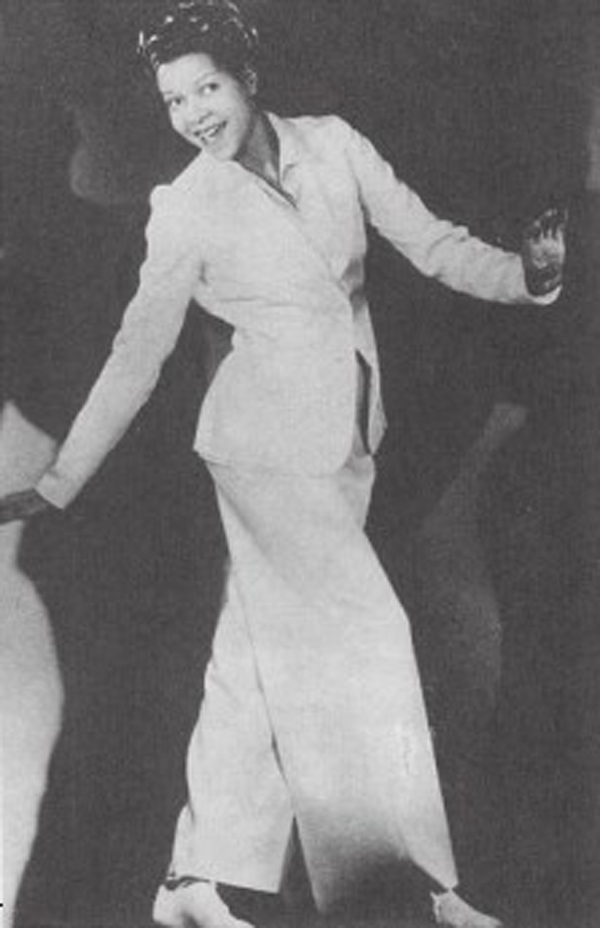 JENI LEGON
1916–2012
She began her dancing career partnering her older brother and a few years later, still in her teens, she was touring with a Whitman Sisters show. She was inspired by Alice Whitman and Jeni became very serious about her tap work. She developed into that rarity, a female tap soloist, regarded by many as one of the three or four best with Alice Whitman, Eleanor Powell and Ann Miller.
Jeni LeGon settle in Vancouver in 1969 and taught tap and pointe.
For more information about Jeni LeGon, send for Volume II, Issue #3 of Vaudeville Times or Bound Volume II.
HARRY LESTER
1880–1956
The Great Lester, as he was billed, was a master ventriloquist. His specialty was technical brilliance, often performing right in front of audience members who were unable to detect any movement of lips that could give him away. He drank water and stuffed handkerchiefs into his mouth, yet he still whistled, sang and spoke. He was equally famous for imitating a variety of sounds, both human and mechanical.
For more information about Harry Lester, send for Volume V, Issue #3 of Vaudeville Times or Bound Volume V.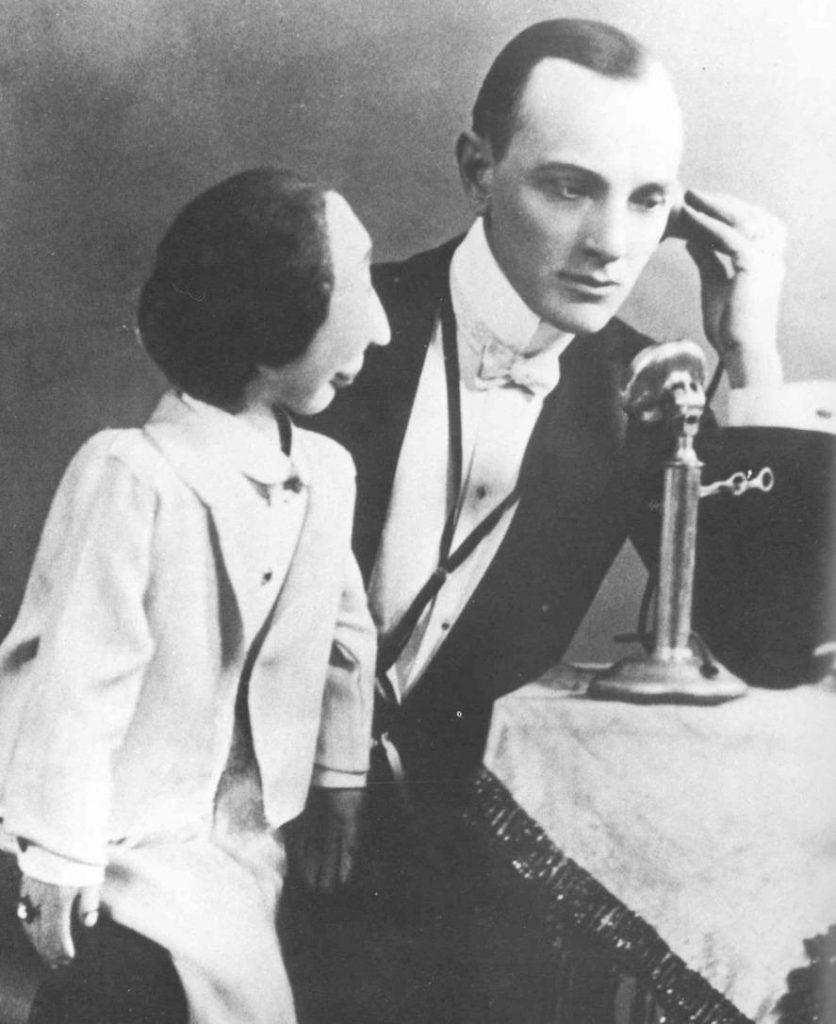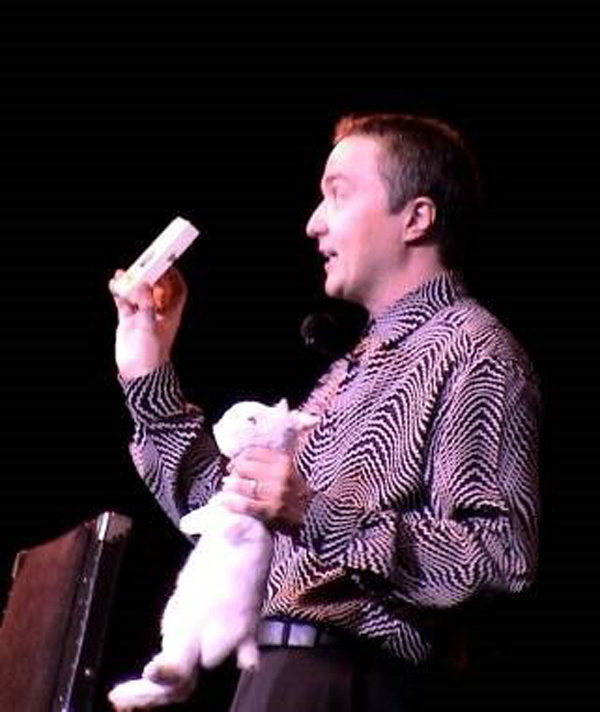 LEVENT
1964–
Levent the Magician was born in Brooklyn, NY of Russian parents who escaped Stalinism. As a schoolboy, he became captivated by the magic tricks he encountered as he visited flea markets and joke shops. He soon developed into a child prodigy, performing card and coin manipulations, and got professional work while still in his teenage years. Early on, he got to 'open' a show for one of his idols, Richiardi Jr.
A stint in the Atlantic City casinos nearly wore him out with numerous and frequent shows day and night. A round of various comedy clubs lacked the casino glamour, but helped him to add comedy to his act. Like many current variety performers, Levent the Magician finds performing on the better cruise ships rewarding in many ways.
Levent does a variety of tricks and comedy routines in his show. One bit pushes the standard ploy of the magician and his rabbit into wild comic absurdity. Levent transforms a bottle of champagne into a rabbit. The rabbit is then hypnotized, made to think it is a chicken and forced to perform a dance from Riverdance. It is then turned into a weed whacker and a dowsing rod, inflated to the size of a basketball, attached to a TV antenna, cable TV, and a satellite dish. Finally, the rabbit is mutated with gamma ray radiation. Of course, Levent, who is an animal lover, uses a fake bunny.
For more information about Levent, send for Volume VII, Issue #2 of Vaudeville Times or Bound Volume VII.
ALICE LLOYD
1873–1949
by Max Tyler
Alice made her first appearance on the professional stage at Foresters Music Hall with her sister, Gracie; they were billed as The Sisters Lloyd. They were both younger than sister Marie who was becoming an important star of the British music halls. There were six sisters in all and two brothers. Most of them went on the stage, at least for a time.
More and more music hall performers were appearing abroad. Marie made her first USA appearance in 1890, and returned in 1894 and 1897. In the early Spring of 1907 Alice decided to try her luck in the USA.
Her success with American audiences was greater than anyone including Alice could have expected. Her salary soared from £200 to £1,500 (or from $1000 to $7500] and her stay in America was extended to three months. Before she returned home to fulfill a pantomime engagement, she was signed up for the next season of forty weeks at £2,000 ($10,000) a week over a five-year contract.
Midge Gillies in her recent excellent book on Marie Lloyd, says:
"New Yorkers liked Alice's gentle, English Rose appeal. She was not a classic beauty but had the homely attractive look of the girl next door. She had a mass of shiny hair, pretty eyes, and the flowing, dainty Edwardian style of dress suited her figure, which she had kept in better shape than Marie had hers. Alice could be saucy but she did not wriggle and wink like her sister, and New Yorkers saw in her the genteel vaudevillian that many of them wanted. She was a 'dainty girl' and 'winsome.' Her billing was changed from 'English Comedienne' to 'The Dainty Chanteuse.'"
For more information about Alice Lloyd, send for Volume III, Issue #1 of Vaudeville Times or Bound Volume III.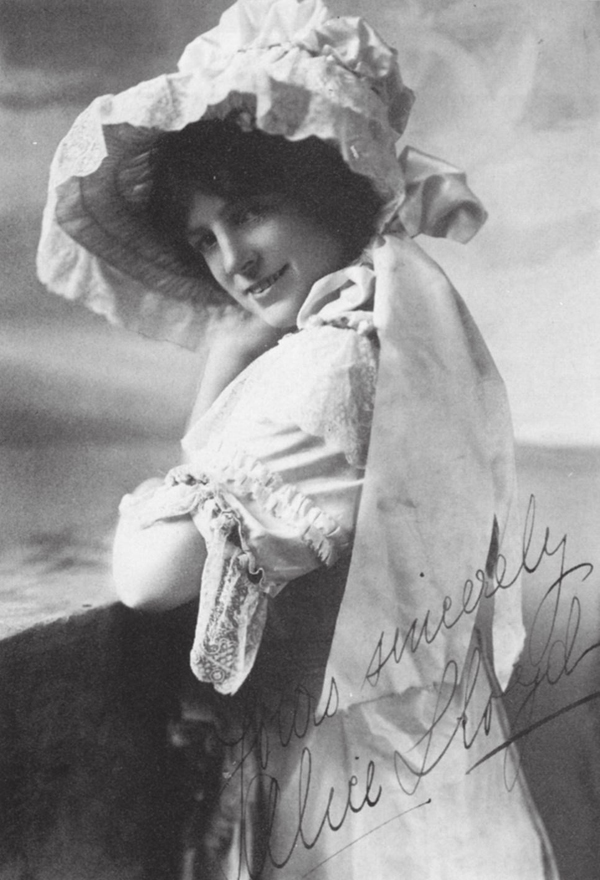 CARNELL LYONS
CARNELL LYONS
In the 1920s and 1930s, Kansas City was a swinging town, a jazz center largely unknown to the general public until record producer John Hammond discovered Count Basie in 1936. Hammond heard Basie over a radio broadcast from the Reno, a club in that city. Among the musicians that Kansas City boasted were Benny Moten, Andy Kirk, Mary Lou Williams, George E. Lee, Jay McShann, Lester Young, Jimmy Rushing, Ben Webster and future jazz star Charlie Parker. The Vine Street District hosted all kinds of night spots and jazz clubs, most owned by the local mafia and protected by city boss, Tom Pendergast. Many night spots like the Reno and theaters like the Lincoln had a floor show which featured some of America's best tap dancers like Peg Leg Bates and exhibitions by Lindy Hoppers.
Dancing in the movies were Bill Robinson, Buck and Bubbles, Jeni Le Gon and the young Nicholas Brothers—a special inspiration for all youngsters, including Carnell Lyons, who decided that he, too, would learn to tap dance. His first teacher was a neighborhood kid, Cornelius Redman, whom everybody called 'Perk.' A little older than Carnell and the other kids, Perk taught them the basics of tap, such as time steps, wings, over-the-top—which they called 'plain dance.'
For more information about Carnell Lyons, send for Volume X, Issue #4 of Vaudeville Times or Bound Volume X.